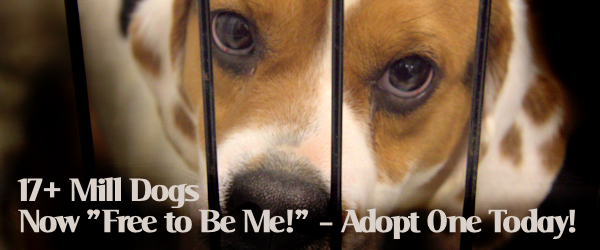 The call came from Lisa Caporizzo on April 17, 2013. "Can you help?" Without hesitation, we said yes.
Collaboratively,we worked to place 17 mill dog rescues, an effort spearheaded by the  Companion Animal Placement Program (CAPP) and the Healthy Pet Center, with additional support from Pet Connection's Steve Caporizzo, Pack Ethic and Homeward Bound.
The Long Haul
SEVENTEEN dogs arrived stacked from floor to ceiling in the back of a white minivan  – Yorkies, Bichons, Poodle mixes, Beagles and Beabulls (Beagle/Bulldog mixes). Some were packed three to a crate, enduring the cramped, smelly quarters for a twelve hour transport. Confinement and filth was nothing new to them. These were puppy mill dogs. What was new: Destination Freedom.
The Arrival
A lucky miniature Schnauzer got a preview of freedom, riding in the front seat for 6 hours, crate-free, with Pet Connection's Steve Caporizzo. Steve speaks fondly of the pup saying, "Her name is Mackenzie, a sweetie that really enjoyed watching the world go by for the first time in her life."
At noon on Sunday, April 21, the puppy mill Hell and transport became a mere memory. These dogs had found their way to CAPP, the Companion Animal Placement Program, and landed safely on the doorstep of Lisa and Steve Neal's  Healthy Pet Center in Delmar, NY. This is where their new lives began.
Processing Freedom
Soft whimpers were heard as the crates were unloaded. A Beabull stuck his head through the cloth crate door in search of what his new life would bring. Two female Bichons dripped milk for litters pulled from them at the mill, disconnected from all they know and the babies they loved. A Beagle, too fearful to come out on her own, had to be coaxed by two volunteers. Her reluctance was quelled when, within an hour, every dog was stretching their legs, basking in the warmth of the sun, and lapping up cool, clean water.
Eyes now forward without looking back, every one of these dogs appreciates a gentle hand, a soft voice and general human kindness, but a sense of freedom doesn't come at once. After a lifetime of walking on chicken wire cages, the small dogs often raise one foot and then the other, even on solid ground – an ingrained coping mechanism of relief for what has been long-term discomfort. Phantom behaviors should subside over time, but the dogs' hearts will surely overcome as kindness leads them to favor freedom over fear.
Get out the tissues. This is what that Sunday looked like. SPOILER ALERT: There is a happy ending.
Healing Minds, Hearts, and Bodies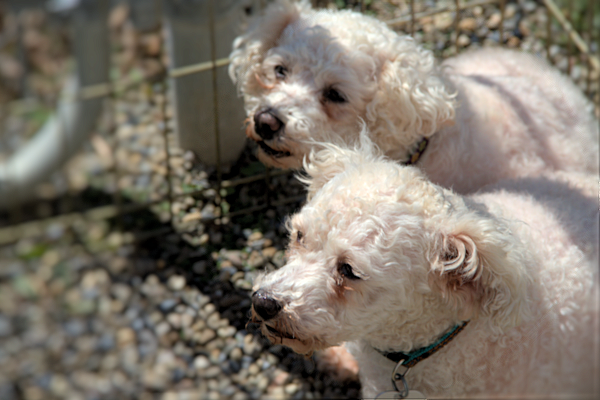 For many of these dogs, it's a time of glorious firsts: first eye contact, first tail wags, first pets, first steps in the grass, first play bows, first toys … first trust. For the younger and less traumatized Beabulls, the window for reward-based puppy training is wide open and they are eager to learn. Head scratches are often more valuable rewards than treats for these attention-starved souls.
The dogs ranged in age from 6 months to six years. The older ones had been bred repeatedly, aging them long beyond their years. Once they received the care they needed, these dogs became wonderful companions who truly understand and appreciate how good life can be. When they only have the worst to compare it with, it's easy to be grateful for each small grace offered. The grace they truly needed is to get their bodies healthy so their hearts and minds can follow.
Acclimating the Dogs to Kindness
Watch as Molly, Polly, Dolly and Chopper (Monster) emerge from their shells through gentle kindness. All four are now in homes!
And the Beabulls, Alex and Luke, take their first steps!
Successful Adoption Stories!
These are some very lucky little pups. We wish the same for all of mill dogs!
Working Together Makes It Happen
Dog House Adoptions was founded on the belief that no rescue is an island. This week, we joined a team that proves it.
For our part,  all donations to our organization helped these dogs until the received homes. We've sponsored the neuters, dentals and fostering of two Beabulls, produced the videos above, cross-posted all the adoptable dogs, and 10 Dog House Adoptions volunteers pledged to help acclimate the dogs until they find loving homes.
But the lion's share of the hands-on work fell to Healthy Pet Center staff and CAPP. DHA's Kim Clune, who filmed the dogs' arrival, had this to say:
Lisa Neal and her husband Steve, CAPP, the Caporizzos, Gayle and everybody at the Healthy Pet Center are my rescue heroes. Watching everyone care for these dogs with such a gentle heart and touch, I have no doubt that rehabilitation will be as swift and sweet as possible.
CAPP shared their own message about this multi-rescue collaboration:
You know it takes a lot people to make rescue successful. It is not just a group, but a network of people that help a dog or cat know what love is all about and how that animal continues to thrive beyond finding its forever home. So many people have supported us and we want you to know that we could not do it without you! This past weekend we brought back 17 beautiful dogs from the Ohio puppy mills, some in much better condition than others, but without hesitation Dog House Adoptions, Pack Ethic and Homeward Bound Rescue jumped in to help. They each took dogs into their rescue group. How great is that! Words sometimes cannot express what we feel and we wanted to let our supporters know how much we appreciate their help. It takes all of us to make this world of rescue work.
We couldn't agree more and we are in very, very, very good company.