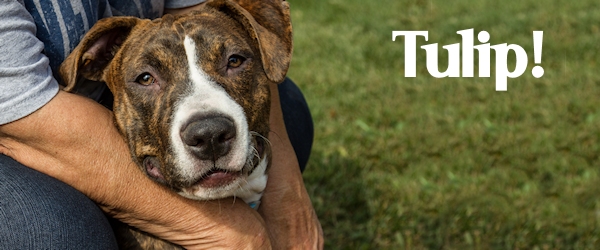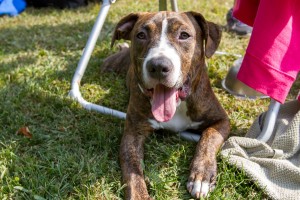 Tulip has been adopted by her foster family! Hooray for Tulip! She now can live happily ever after with her sister Magnolia and her forever family! 
Tulip is such a silly girl. She loves to snuggle, especially with her humans. She is a very sensitive pup, always reading your emotions to make sure she is doing good.  Tulip is one of those dogs that is hard to find, she will make a great best friend. She is 45lbs and on the short stocky side, she is such a beauty to see in the bright sunlight the colors of her brindle coat are amazing.
To bring out her best she would thrive in a home as the only princess as long as she has a child to call her own, or a easy going male dog. (She is living with a older grouchy female and a male who is laid back.)  She is way too interested in cats, so a cat-free home is best.
She walks fantastically on a leash and is not bothered by other dogs walking about.  She is spayed, potty trained and knows basic commands. She is a fast learner with the right treats.  She doesn't share her toys well, but will if she is talked into it.  Then she will apologize and lick her friend all over to make amends.  She shows no food aggression and easily gives up a bone or toy to her human.



Where Tulip's Story Begins

Born on April 14th, this little pup was growing big and strong when, 8 days into life, her mother tried to eat the litter. By Easter Sunday, Tulip and Magnolia, her sweet little sister, were mended – one stitch each –  and placed in our care. Of the 8 litter mates, 4 went to Out of the Pits and 2 others didn't make it.
Smart enough to sense that bottle feeding was not natural, these little Easter Eggs, as we call them, were syringe fed every four hours for several weeks.
So, who is Tulip?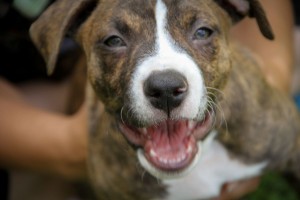 Tulip is a wiggly piece of cuddle candy. She first eased into things, taking a full day to open her eyes, and growing into reverse tackling her sibling. But don't let that fool you. She is not a slow poke and handles herself well in the face of her sister. She's an adventurous little soul, too, whether trouncing straight into the pool on a toy mission or straight into your lap for a cuddle.
Both pups were initially raised by our own Cassie Costantino as well as her dogs MG and Oliver. If it weren't for Cassie's dogs, she could never have as
effectively taught these two bunnies how to do innate dog things.
She's been raised with children and other dogs and she's known for snuggling into your lap and watching the world go by. This note came from her foster mom in late August:
Tulip went on her first small road trip,Grafton Lake, she loved the water, she loved fishing, she loved exploring. She is going to make someone a great companion outside and in(as she is a snuggly couch potato as well). She was on a long lead but yet didn't wander, or get distracted she is a pleasure to travel with she loves car rides too.
This is the same family who raised and adopted Magnolia!
Modeling Career Ahead!
Our little Easter Eggs were photographed for Dog Park Publishing "Itty Pitties" 2015 calendar at just 6 weeks old and they made the cut! Tulip and Magnolia are June's featured Itty Pitties and Cassie's famous Oliver and MG are May's pinup pups in For the Love of Pit Bulls! Anything you buy from Dog Park Pubishing earns us a 10% donation, including"Painted Pit Bulls," "Itty Pitties," and "For The Love of Pit Bulls" featuring Cassie's famous dogs, Oliver and MG!
tulip
Itty Pitty Easter Egg
http://www.doghouseadoptions.org/wp-content/tn3/2/1712.jpg
.