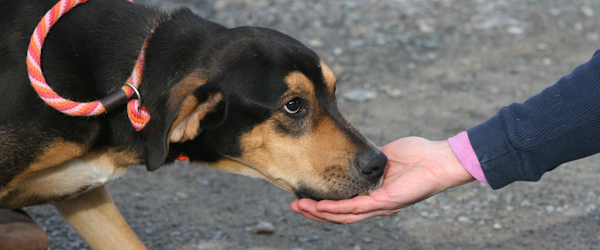 Celebrating the connection between people and dogs.
Welcome to Dog House Adoptions!
A dog's love feeds the human soul and humans have the ability to offer the same in return. That's why we designed a rescue program to enrich the lives of both dogs and people.
As we strive to introduce orphan dogs into loving homes, we invite you to work with the dogs not yet placed so that you may receive the benefits of their unconditional love and heart-healing power. As you indulge in the canine connection, you'll help our rescues become more adoptable, paying your experience forward to their new forever families.
Join us on this amazing journey. The dogs would love to have you!
Our Mission
Dog House Adoptions cares for the dogs who need help now, educates the public to protect dogs of the future, allows dogs to give back as they do best – with their whole hearts, and we accomplish each stage with a sense of humor.

Our Philosophy
The way we see it, dogs are not throw away items. Their lives have value and, when the community comes together to support their needs, dogs do something miraculous. No matter how weary, weathered or worn, dogs give back with their whole hearts, enriching human lives in healing ways. This is why we've made it our job to facilitate loving, healing dog/human connections.
Maintaining a Sense of Humor
Dogs are playful, precious and often precocious, but the world they sometimes live in can be a sad and lonely place. At Dog House Adoptions, we pride ourselves on being just as playful, precious and precocious as our dogs, showcasing their best traits in the best possible situation, making rescue a safe and fun place to volunteer.
Finding Pet Parents for Orphaned Dogs
Why do we call our rescue dogs orphans? The dogs in our care are not homeless. They have a transitional home that satisfies their physical needs and caring people who tend to their emotional needs. But what they need most is a pet parent.
We seek pet parents for our darling orphans, people with a dog's best interest at heart, so our precious babies can feel loved and cared for – for life. From the moment they come to us, they give all they have. The ultimate gift we can give back is a safe place to live out their days, a forever home.
Visit our adoptable dogs and become a loving pet parent today!
Healing the Hearts of Dogs and People
Our rescue is open to all members of the community who can benefit from the healing aspect of dog interaction. Dogs give without limit to those who wish to receive. Whether providing emotional support to trauma victims and those who suffer from deep emotional loss, or by providing occupational therapy through brushing or walking, they always do so with a tail wag of reward.
We are happy to work with individuals and organizations who can benefit from feel-good dog interaction. Contact TopDogs@DogHouseAdoptions.org to partner with us or to learn more.
Educating the Stewards of the Future
Dogs instill an increased sense of compassion and responsibility in children, preparing the next generation for humane animal stewardship. We'd love to speak at your school or organize a weekend youth class to teach children how to best approach strange dogs, ask owners for permission to pet, and act thoughtfully in any dog's presence. If you can lend an organizing hand, please contact TopDogs@DogHouseAdoptions.org.
As we grow, we plan to offer college internships, allowing students to devise class projects with real impact, from creating lesson plans to social media campaigns and beyond.
Building a Human Dog House
Our goal is to build a Dog House Rescue Center to house the community's orphaned dogs and to host dog encounter programs for the public.
The Dog House, a human house featuring a living room commons, a kitchen, a laundry room and more, will allow us to teach dogs not to chew furniture, counter surf or fear noises from appliances. We believe adoption chances increase exponentially when prospective adopters see a well behaved dog in a home setting, and return rates will be greatly reduced based on good behavior.
This space will also be the location for volunteer gatherings, education programs, summer camp dog classes, and more. Built using green materials and sustainable energy sources, it will showcase the talents of local designers, planners and builders in Rensselaer County and the Capital Region of New York State.
Help build an innovative Dog House! Contact TopDogs@DogHouseAdoptions.org to discuss how or donate toward this project today!
Fostering a Resource Network
Having met with local rescue people interested in sharing resources, ideas, and working toward common goals, we are eager to grow our circle of reliable friends. We invite dialogue with others to that end – because no organization is an island.
Rescue organizations we have worked with so far:
Animal Protective Foundation
Companion Animal Placement Program
Free to Be Me
HeartsHerd
Peppertree
Out of the Pits
Eleventh Hour
See Dogs In Need Everywhere for a full list of Capital Region Rescues and Shelters