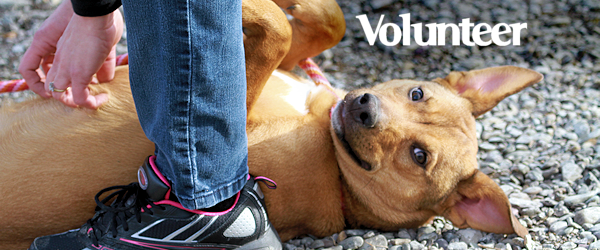 OUR DOGS NEED YOU!
… for belly rubs, play time and walks! By spending time with our lovable, adoptable dogs, you'll help prepare them for positive and successful adoptions.
Get a sense of how you'd like to help and fill out our volunteer application.
You can also apply to our foster program.
Volunteer Positions:
HANDLER WITH CARE – Get Your Puppy Love On
Dole out head scratches, belly rubs, and rambunctious romps. Toss a toy, teach a good sit or loose leash walking. Make a dog happy. In return, you'll get paws up, face slurps, perked ears and a full heart as you mold orphaned dogs into family-friendly furballs built to succeed in any new environment.
PARTY LIKE A ROCK STAR!
Who wants to fund raise? Yeah. We thought so. Let's rephrase that. Who wants to PARTY? Plan your favorite party theme and let the proceeds go to the dogs – you know, in a good way. Let's rock the [dog] house and make passing the hat a pleasure! Join us for bottle and can drives, the Bow Wow Comedy Series, and much much more!
SHAKE YOUR MONEYMAKER
Wiggle and jiggle your best writing implement, whether computer keys or a puppy dog pen, to satisfy our rescued strays' health and hunger needs. Grant writing is where the big bucks are at to care for big dogs, little dogs and those in-between.
BE AN ADOPTION ADVOCATE
Handle, huggle, and hype our happy dogs to prospective pet parents at adoption clinics!
DRIVE MISS DAISY
Chauffeur our pups in style, by driving Miss Daisy to meet prospective parents in your fur-friendly ride. (Serenading is optional, but often appreciated.)
VOLUNTEER COORDINATION – Got the Moves?
If the dance between people and pups is your thing, we want you! Round up some folks, round up the dogs, and start the "dosey doe" of matchmaking between dog walkers, care handlers, and perspective pet parents.
BUILD YOUR FIELD OF DREAMS POSITION
Have a skill to fill stands with adopters? Pitch it to us. Let's swing for the fences and hit it out of the park!