Where Magnolia's story began…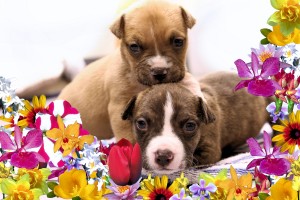 Born on April 14th, this little pup was on her way to growing big and strong when, 8 days into life, her mother tried to eat the litter. By Easter Sunday, Tulip and Magnolia, her sweet little sister, were mended – one stitch each –  and placed in our care. Of the 8 litter mates, 4 went to Out of the Pits and 2 others didn't make it. Smart enough to sense that bottle feeding was not natural, these little Easter Eggs, as we called them, were syringe fed every four hours for several weeks… until Magnolia found her way into the food bowl and realized she could slurp her food down all by her big-britches self!
Adopted!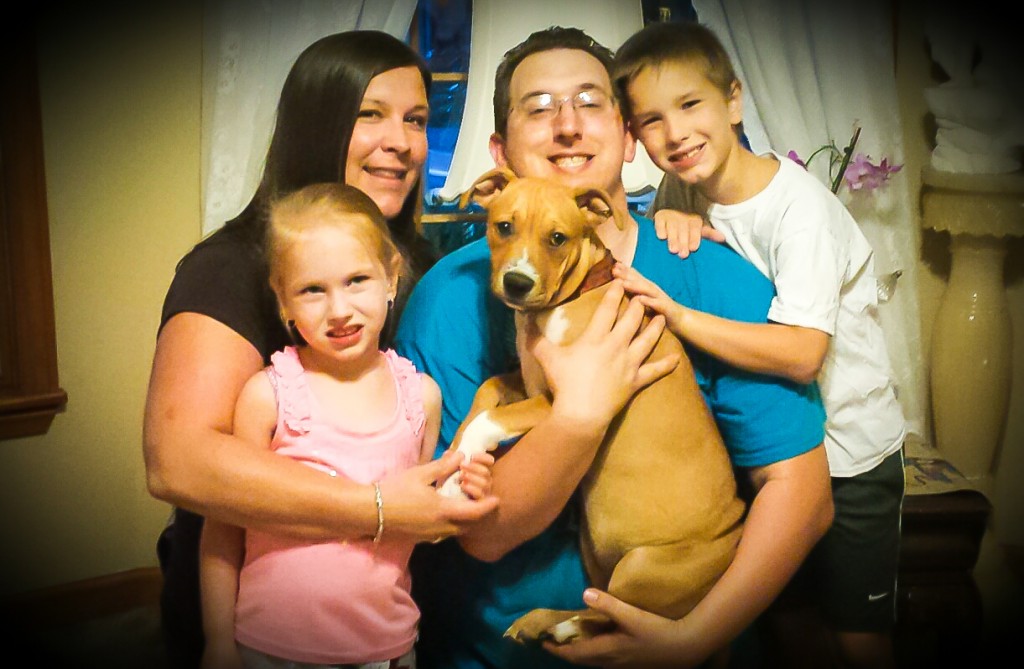 For the family who fostered this puppy (and her sister, Tulip who is still available for adoption) since her 2nd month of life, their love was apparent from the start. And she deeply loves them as her own, too. We all saw it, they saw it within themselves, and none of them dared to speak it out loud.
Nina had been raving about how special this particular puppy is. Her husband, daughter and grandchildren had all grown to love Magnolia with all their hearts. But the family also knew that fostering meant letting go, just as they have done on occasions before this… until we asked. Did they want to keep her?
Nina talked with her family and the answer was not surprising.
Its an over whelming YES! We have thought about what it would be like if she was to be adopted by someone else and it made all our hearts sink.
Something in the stars said this was always meant to be. Without knowing Nina, or that she'd wind up with this pup in her home, I named this dog Magnolia. When I got a little note from Nina that said "Magnolia was my maiden name," I thought, "Well, alrighty, Universe. You have clearly spoken!"
Congratulations, Magnolia, Nina, George, Brianna, Jason, Zachary and Kilee! You have so kindly and generously helped three of Dog House Adoptions' dogs now and we couldn't be more honored that you have chosen one of them for your very own!
Happy tale update!!
Brianna wrote to us on 2014.10.29:
Hi Kim. I wanted to write to you to give u an update on the foster puppy we adopted "Magnolia". I don't think I could ever thank you and Cassie enough for this adorable sweet and loving puppy. We are so in love with her. She adores my two kids. She has taken quite a liking especially to my 4 yr old daughter Kilee. She is such an amazing addition to our family. Thank you so very much for saving these babies and giving us an opportunity to give her a good home! I have attached some photos of Mags..being Mags. We love her!!!
Can't you just tell by all the beautiful photos Brianna sent??? Watch the video and get set to swooon!!!

So, who is Magnolia?
Magnolia is the most adventurous pup, always first to learn everything and looking for something to do. She was first to open her eyes — all at once — and wag her tail. She was first to pounce in play and practice growling. (although her sister Tulip was only a split second behind.) She's also got that special something that has all of us saying she's got the makings of the perfect therapy dog. She's attentive, contemplatively watching every move you make, and calmly receptive to all that the world around her has to offer. She's a smart little whip and we don't see her slowing down for another 13-14 years!
Modeling Career Ahead!
Photographed for Dog Park Publishing "Itty Pitties" 2015 calendar, Tulip and Magnolia are June's featured Itty Pitties! (Anything you buy from Dog Park Pubishing through this link earns us a 10% donation.)
tulip
Itty Pitty Easter Egg
http://www.doghouseadoptions.org/wp-content/tn3/2/1712.jpg