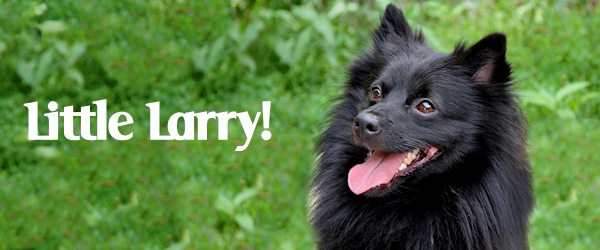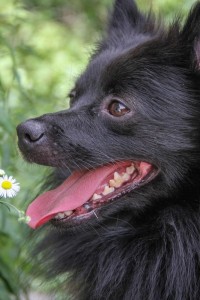 Klein German Spitz
3-4 year-old Male
Neutered and Vaccinated
Larry's Background
Larry's German Spitz breeding is impeccably handsome and we wouldn't be surprised if somebody paid good money for him. His shining little 3 or 4 year-old spirit makes him just as beautiful to the heart as he is to the eye.  It's surprising that he was found on the streets of Schenectady, never claimed from his 5 day hold, and nearly put down.
Who is Larry?
This loving little dog is the type that likes to fully lean in with all 22 pounds, curling in for constant contact with you as you stroke his long, glossy, black fur. His bright brown eyes gaze lovingly into your own and he's happiest when cuddling or playing. If you bend down to pick him up, he instinctively knows to relax and be lifted without wiggling.
Why the Name?
Two young volunteers in our program, the first to walk him, earned the privilege of naming him. They chose Larry and we liked it. The way Larry boings up and down, hip-high, and dances around as if to say "Look at me! Look at me!" is pretty "hi-larry-ous."
The Mysteries of Larry
We're pretty sure this fella was carried around everywhere and accustomed to a home life, although he quickly adjusted to kennel life as well. His nails are ground down from concrete contact – maybe from days of running the streets or, perhaps he spent a great deal of time in an outdoor kennel. He may not have been neutered due to his owner's desire to breed him, but we took care of that which helped with his house training. Foster mom Diane Wood did wonders for the rest of Larry's house training and confidence, making him a wonderful companion in his new home. Because Larry is now…
ADOPTED!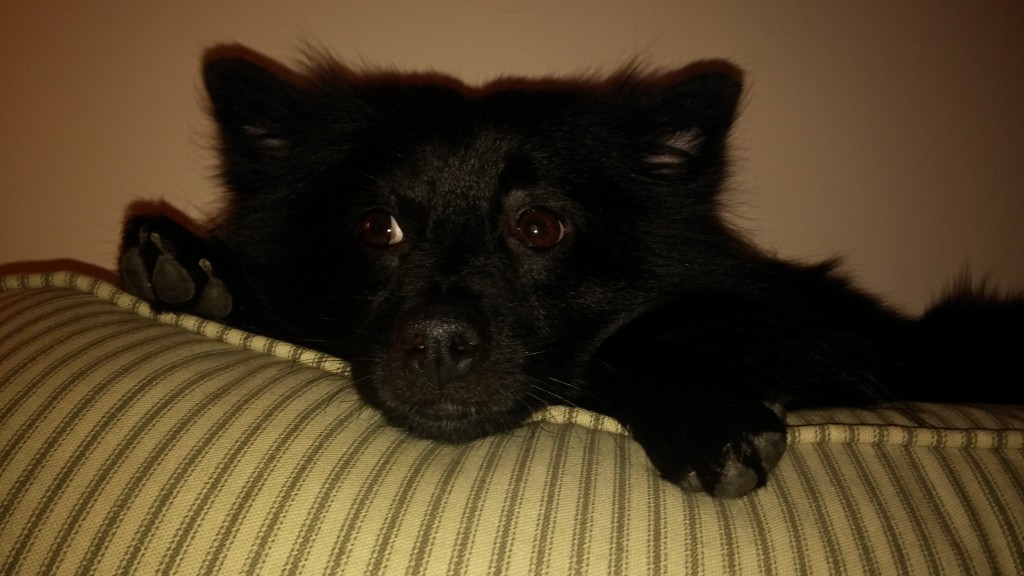 Elainor's dog Buster passed away last year after 13 years of sharing their lives together. "He was my best friend and my baby. I miss him dearly and miss having a dog in my home.," she says. Buster was an American Eskimo (also known as a German Spitz).
I have looked all over for Eskimos, Spitz breeds in general and could only find puppies, until I searched around and found Larry. He is gorgeous! Looks just like Buster did, but black fur! I love training, walking, hiking and I love the snow which is why I love these breeds! "
On August 6th, 2014, Larry entered into Eleanor's world for good, and he couldn't have found  better match. Elainor's mother also has two Eskimos, making instant family playmates for Larry.
When we asked how this little pup was doing, we received this response on August 22:
Larry is doing wonderful! He is such a joy, and has not a mean bone in his body. He loves everyone, and absolutely loves his stuffed tiger. I love all his quirks, and his raspy bark. Hahah. He is my new found love and incredibly spoiled. I am so grateful Dog House Adoptions saved him. He is my new best friend.

Thank you to all,
Elainor and Larry
It's one thing to hear an adopter speak of how wonderful their new best friend is, but it's even more wonderful to overhear it!
Marianne Hoeppner, one of our wonderful volunteers, stood on line at a store where she heard somebody mention having met the best black dog through Dog House Adoptions. The only black dog still in our care at the time was Bethany but, when Marianne asked if the woman is interested in fostering, she said, "Oh no! I've already adopted him. His name is Larry!"
We just love this story. And we love you, Larry! Congratulations on your new home and beautifully doting dog mom!