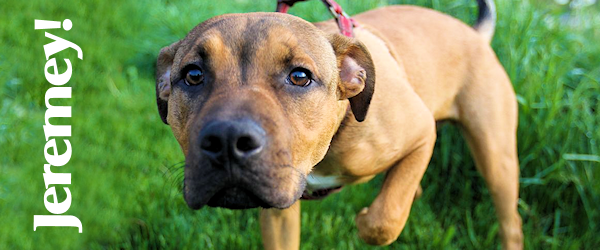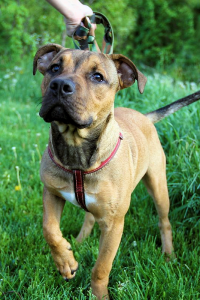 Rambuctious Pupalicious Rottie Mix
Young male
Neutered and Vaccinated
Hi! I'm Jeremey and I pack a whole lot of cute into this little, wiggly body!
Jeremy is an energetic and friendly little fella who loves everybody he meets. Playtime with people and other dogs is super fun for him, but cats are a little too much fun – so he should avoid those altogether. (Too much love isn't always a good thing.)
Jeremey is into all kinds of energetic sports. He runs, jumps, and swims like a fish! (We can't get him out of the doggy pool.) His favorite toy game is tug-o-war, which can get this puppy a bit excited and mouthy so we don't recommend him to families with small children.
Jeremy was the life of the party at puppy kindergarten. Folks laughed until they cried as he exuberantly knocked over a pylon and a 5 gallon bucket during his first class – because he wanted to say hi to all his new friends. But he's so eager for positive attention, he'll work hard to learn how to be your very best dog.
Jeremey came to us when abandoned by his owner mid-May. She moved out everything everything but the puppy from her apartment and left her roommate a note saying she couldn't take him too. The roommate, having to catch a plane the next day, brought him to rescue from Queensbury. And so, Jeremey is more than ready for a person who understands that owning a dog is a lifetime commitment.
Jeremy Finds a Helping, Loving Hand!
Traci, the animal control officer for 3 rural towns in southwestern Vermont, rescues highly desirable dogs and single-handedly and lovingly houses and rehomes them through her Luckydog Animal Control Adoption Program. 
"Animals are housed in my small kennel and carefully screened as best as can be done in a kennel situation. As a professional dog trainer and competitor I try to get an accurate picture of the dog, it's temperament, trainability and suitability for a variety of home situations. I believe it is important to represent these dogs as honestly as possible so that the layperson looking for a pet and companion will have the best chance of adopting a buddy, not an unexpected problem. I am always available for follow up counseling and guidance in an effort to assure that both owner and animal are happy and well suited to each other.
Traci had just put her whole heart and soul into a dog who needed guidance before finding the perfect family match. After a wonderful placement was made, she struggled with a bit of empty nest syndrome. Hearing about Jeremy, who is a love but needs some puppy training, Traci took this task to heart. Jeremy is now in her care, getting tons of one-on-one attention and learning how to be a house dog with wonderful manners.
Traci, we're so happy you offered to give this pup the extra oomph he can get only in a home situation. And we are so happy you found your chance to grow and shine, Jeremey! Cheers to a long, lovely life ahead, you beautiful boy!