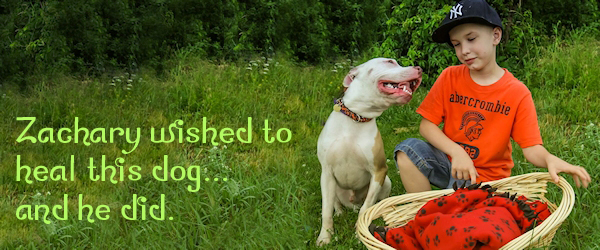 Zachary Conley, at just 8 years old, sees a photograph of an emaciated and ailing dog on his mom's computer. His tender heart is so moved that he makes his upcoming birthday wish right then and there.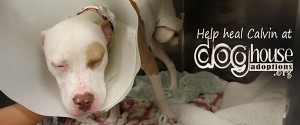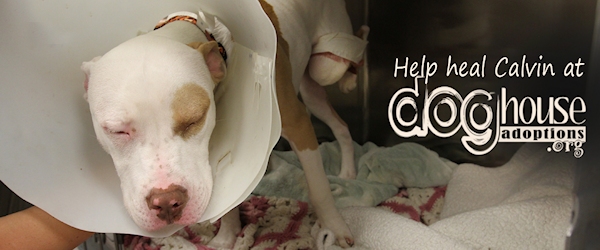 "I want to help this dog," he says.
And for his 9th birthday, his mom, grandmother, family and friends help to grant his wish.
---
The Need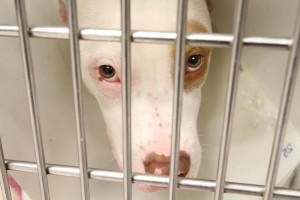 Calvin, a 9 month puppy, suffered for more than a week in excruciating pain. Significant blunt force trauma had dislocated his hip. He received no veterinary attention during his Schenectady stray hold until an employee asked Dog House Adoptions to step in.
Calvin's initial recovery required anesthesia, surgical hip repositioning, and 2 weeks of immobilized traction. With his hind leg suspended in a sling, Calvin was confined to a small kennel but for elimination outside.
Complications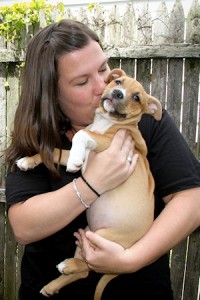 Zachary's birthday wish raised $70 and a bold and beautiful handmade fleece blanket with matching tug toy.  But, on the day he was scheduled to deliver his gifts, Calvin suffered another malady. Testing positive for Parvovirus, all of Dog House Adoptions went into lock down to protect every vulnerable dog in our care.
Cassie Costantino single-handedly moved puppies into foster life with Zachary's family, scrubbed every single kennel enclosure, and cared for Calvin's irritable belly and other viral symptoms in addition to balancing his rehabilitation.
Obviously, and sadly, Zachary's eager delivery had to be cancelled until further notice. While having puppies at his house is fun, Calvin was still Zachary's main focus.
Finally, Progress!
With medication, Calvin's viral symptoms subsided. Taking a page out of Rocky's training routine, climbing park stairs with Cassie daily strengthened Calvin's body and spirit. It also added another 12 pounds of muscle to his once waif-like frame.
After 2 full weeks of physical therapy, Calvin was examined once more. His Parvo test came back clear and he earned a gold star in hip recovery from his veterinarian. Calvin is now free to act like the rambunctious puppy he was born to be. (Shhh! We won't tell him that his neuter is near.)
Help Rushes In!
In the midst of Calvin's complications and subsequent mending, 30 supporters contributed toward his mounting veterinary costs. By the time of publication, you wonderful people had donated $1095 toward Calvin's $1300 bill. Knowing we weren't in this alone keeps us going.
Finally, Zachary's Cake Topper!
On a stormy July 2nd, Zachary, his mother Brianna, and his grandmother Nina, came to deliver Calvin's gifts. The $70 they donated toward Calvin's care took us over the $1000 mark, a huge milestone, to be sure.
Despite the dark skies and heavy rainfall that day, this visit was gloriously cheerful. Calvin ran in circles with the elation of meeting new friends. He repeatedly jumped shoulder high to catch his new tug toy. When his fireworks display of excitement settled down, Calvin got to meet Zachary up close and personal for the first time. Making haste, Calvin accepted his lovely gift basket, tugging and tasting his blanket with approval. He then gave Zachary several big, sloppy kisses in gratitude for having the biggest heart  a young man his size could possibly have.
zachary-and-calvin
Zachary Gives his Birthday Gifts to Calvin
http://www.doghouseadoptions.org/wp-content/tn3/2/018.jpg
.
Thank You, All!!
Thank you to every single person who donated toward Calvin's care and shared his story. You have helped him overcome this tremendous physical hurdle by helping to unburden us from his financial obligations. As a very small organization with less than 1000 followers, we are humbled by your generosity. We send a huge thank you out to HeartsHerd Animal Sanctuary  and their community, as well, raising roughly 1/3 of Calvin's funds by sharing his story!
Calvin's bounding joy is our joy, and we hope it's yours too. You all made that happen.