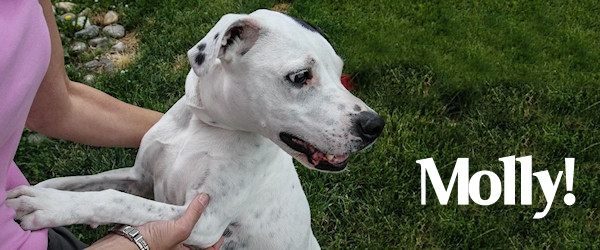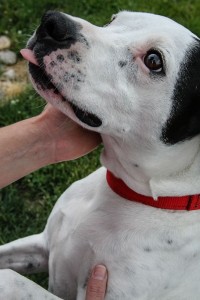 An ever-growing list of miracles surrounds this one very special little dog who seems to be forever "going home." 
Molly's Happy Holiday History
Molly, a starved 10-month-old stray in West Virginia, had just been rescued when Carol, a resident of Colonie, NY, saw her on the internet. That was in November of 2009. Carol said:
I only knew she was cute as can be.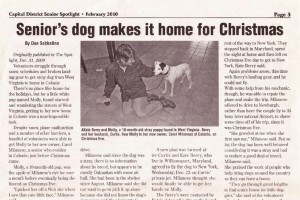 It took a month of coordination between transport volunteers — and even a volunteer pilot — to get Molly into her new home for the holidays. Despite heavy snow and a plane malfunction, Molly made it just in time for 5 o'clock dinner on Christmas Eve, one full month after Carol spotted her.
You can read the whole heartwarming story in the Capital District Senior Spotlight February 2010 (PDF).
More About Molly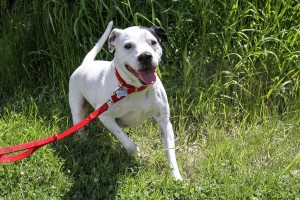 Molly is still, as Carol said, "cute as can be," but she is starved no more. In fact, she could use a bit of a walking routine to get some exercise. She's fairly good on a leash during a lively walk but, if she has an agenda, she will try to pull you along at her pace.
Molly has been terrific with grandchildren of all ages. She's good with most other dogs. She tolerated well the feral cat given shelter by Carol. She can also be left alone during the work day, although we recommend a crate and a good chew or bone since she does tend to gnaw on non-dog things when she's bored.
The little polka dot spots on her right ear are just darling, as is that black patch over her left eye. And she reaches up to bury her head in your arms as you rub the sides of her face. Molly needs somebody to do just that right now.
Why Molly Needed a New Home
We tried, through kindness, to distract Molly from missing the love that she is so very accustomed to. Carol unexpectedly and very suddenly passed away on May 30th. As Carol's obituary says, "The only things she loved more than church and her dog Molly was her family."
The family did the best they could for Molly by placing her in the care of rescue friends at Dog House Adoptions. Carol's children, like her,  are animal rescuers and advocates, but their houses are already filled with animals who had once been in need. Giving Molly up was twice the heartbreak after this family suffered the loss of their mother.
Adopted!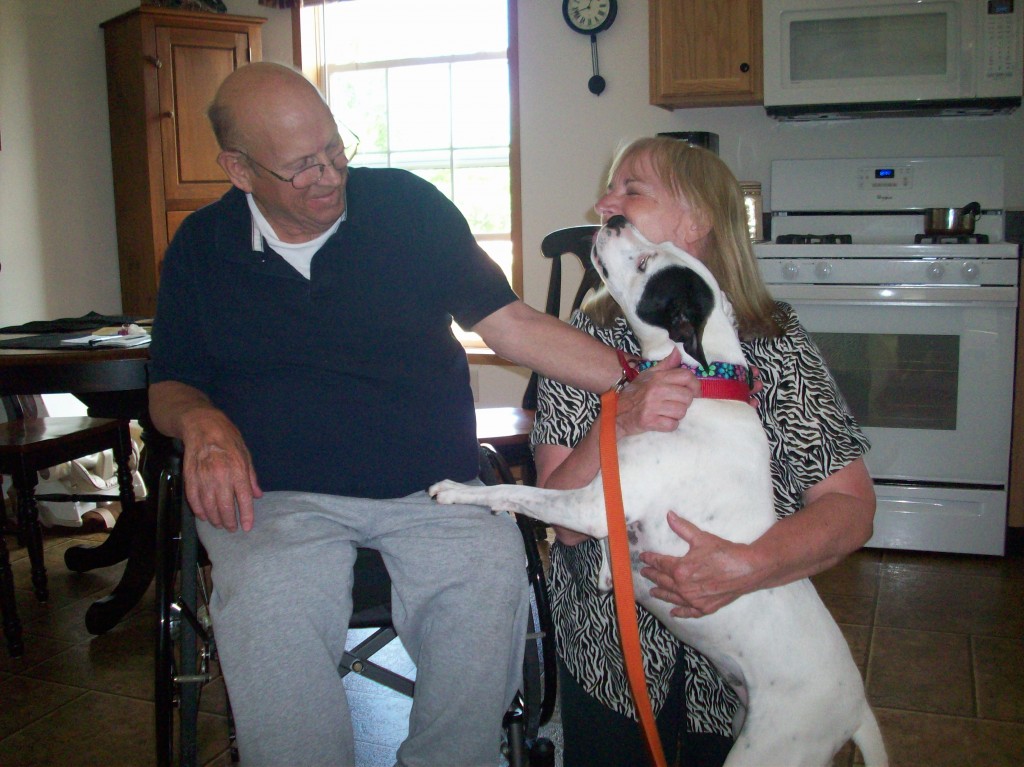 Bill and Diane chose to soothe Molly's sweet and still cheerful soul. Molly was unsure of what was happening when her first mom died but, with Bill and Diane's love, she will find so much comfort in the safety of stability once more.
We suspect Molly may help heal the wounds in their lives, too. When expressing their interest in Molly, Bill and Diane said:
We recently (within the past two years) have lost our two dogs. Snoopy was a Dalmatian mix and was with us for 16 years! Carmine was a lab mix and was with us for 14 years! Our hearts were broken when they left us. We are now ready to love again and Molly has already won our hearts. Our home is very empty without the love of a dog. We have had dogs in our homes all our lives.
Molly was brought to her new rural home by our volunteer, Monica Blizzard. (Thank you for photos of the day, Monica!!) With 16 acres to romp and play, Molly even has a whole half acre all to herself! It's like doggy dreamland, and after exploring it fully, Miss Molly sure did need a nap.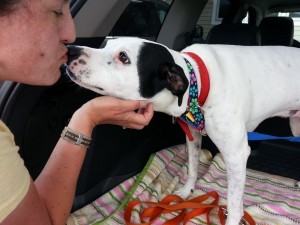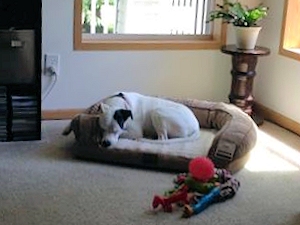 Congratulations to you all!
This truly does end up as a happy tale and, for that, we are all very grateful. And we know that, while our title above may say that Molly needs mollycoddling no more, we know she'll get it just because, whether she needs it or not.
Diane has said, since day one of Molly's adoption, "We love her! She is a precious girl and is doing great. " She added later, "I hope it helps the family to know how much we love her! And yes, she will be pampered!"
See? We knew that.