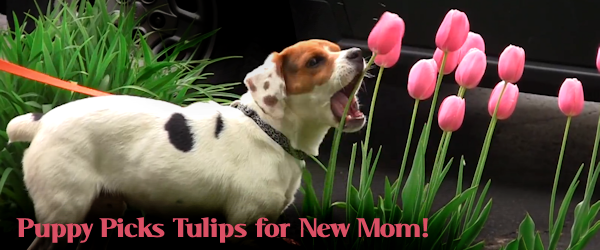 The Beabulls on Pet Connection
People all over New York's Capital Region heard Steve Caporizzo's story Thursday on WGNA's Pet Connection. He brought back 17 rescued Mill dogs from Ohio last month, two of which were Beabull "brothers in life." These pups had been through so much together and they became so utterly bonded. Only recently had their shared experiences taken a turn for the best. Steve suggested, "Wouldn't it be great if they could go together?"
Comments from Facebook erupted in solidarity…
There shouldn't be an option. Either take them together or not at all. They look so happy together it would be a shame after all they have been through to break them up. – Emily Empie
Omg they are beautiful, yes they have to stay together.  – Dawn Friello
I so hope someone will take them both and that they have a HUGE fenced in yard for them to play in forever and ever. – Janice Rajca
Another Special Connection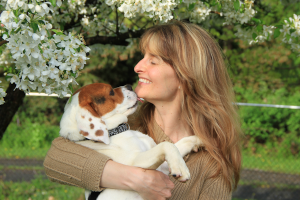 Among the many listeners, two people in particular were about to unite through WGNA's Pet Connection that morning: Kim Clune, the pups' foster mom, and Carol Bradt, the woman who would soon become a forever mom. Kim says:
Steve's description of the dogs was so perfect. I knew the right person would hear. Carol was that person.

When Carol's application came in that Thursday, the pups and I were just arriving at WTEN studios. Steve was about to film the boys for Friday's televised Pet Connection and the exposure would surely capture the attention of many local dog lovers, but I had a good feeling about Carol. Lisa Neal from CAPP agreed. Carol was perfect in every way, she wanted both "brothers," and she could even provide them with a large fenced yard.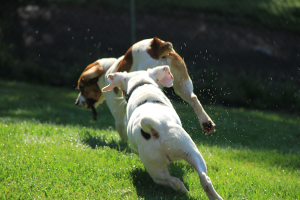 A Change in Plans
Regardless of Carol's beautiful intent, the Fabulous Beabull Boys had other plans. Luke, who had such patience with his slightly smaller and sometimes bossier brother, eventually realized that he had grown. His legs carried him farther and faster than he ever dreamed they could and he wanted to kick the playtime fun up 10 notches.
Luke didn't understand why his little brother couldn't keep up, so he'd pluck the little fella's leg into his mouth like a chicken wing and parade around the yard. He'd tug an ear at top speed as if to say, "Hurry up, short stuff!" Doing so in the spirit of fun, Luke surely didn't understand the harm that could come from such interactions.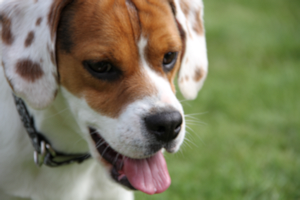 The littlest guy wasn't innocent either. He began to chomp Luke's behind in order to slow him down.
After 3 days of intensified play, it had become obvious. Even with constant human intervention, the dogs weren't going to work this out. The two were no longer a compatible match in energy or size.
Falling in Love
Carol came to CAPP's adoption clinic at the Healthy Pet Center in North Greenbush to meet both Beabulls on Saturday. Kim shared the latest development. With a dash of relief (because two puppies really are a handful), Carol agreed to take the pup most ready for adoption, the little speckle-eared guy we call Alex.
Spending more than an hour falling in love together at the adoption clinic, this pairing was clearly a win. Alex's belongings were packed and he arrived at Carol's house the next day – on Mother's Day morning. Promptly hand selecting pretty pink tulips for his new mom, he not only made her day, he made himself at home. And this home was a prize he was happy to claim all for his own.
While Mother's Day celebrates how amazing mothers can be, Alex (now named Chip for being so chipper) believes Mother's Day celebrates the day he received his very own forever mom. He also gets a bonus – two big brothers. Greg, one of Carol's two visiting sons, sat by ever so patiently, allowing man-shy Chip to approach on his own terms. Later that day, Alex met Carol's other son and they were all playing together in no time.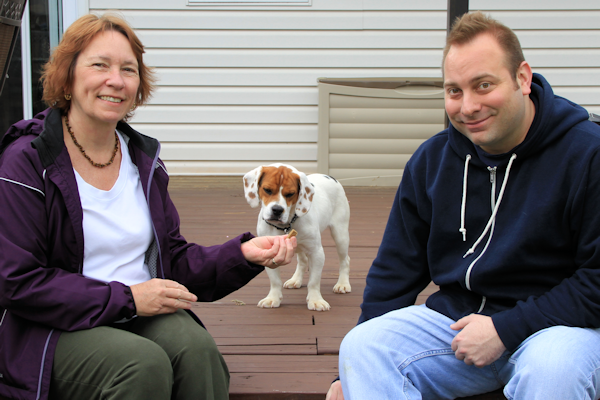 It is with pure happiness that we wish congratulations to you and your new family!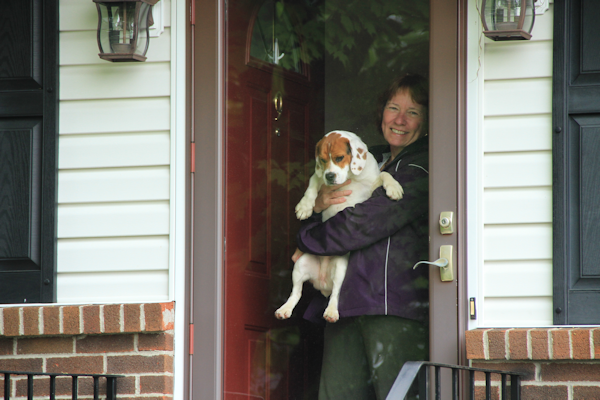 Looking Back
We'll never forget your time with us, Chip, from your arrival after being rescued from the Ohio puppy mill, to learning the stairs and so much more…

alex-chip
The Littlest Mill Beabull
http://www.doghouseadoptions.org/wp-content/tn3/2/20130507CAPPDogs006.jpg
Thank you for all the love and the fun!
PS: For those worried about Chip's brother Luke being left behind, he goes to his fabulous new family on Friday!
Dog House Adoptions is working collaboratively to help place the latest 17 mill dog rescues, an effort spearheaded by the  Companion Animal Placement Program (CAPP) and the Healthy Pet Center, with additional support from Pet Connection's Steve Caporizzo, Pack Ethic and Homeward Bound.