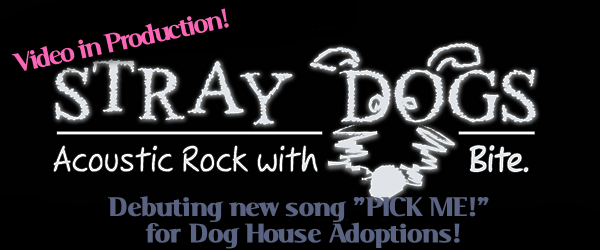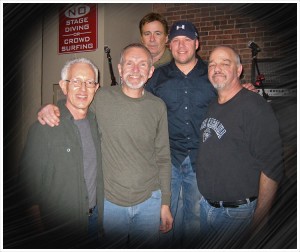 What does music have to do with stray dogs? In our case, everything!
When searching for online coverage of area strays last April 22, I stumbled upon the Stray Dogs band, a mix of bluegrass, blues, country and rock with three part harmonies. Music, while not what I was looking for, was a welcomed distraction. So I nosed around their site a bit.
The Stray Dogs' version of She Makes Me Feel Good by Lyle Lovett (<-click to listen) had me picturing a big-hearted, big-lipped, rescued diva dog riding in the front seat of a pickup chauffeured by a doting owner.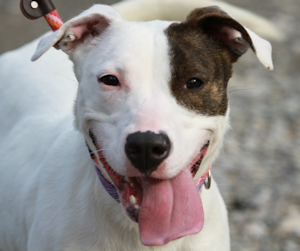 She's got big red lips
She's got big brown eyes
When she treats me right
It's a big surprise
She won't do anything
That she said she would
She makes me feel good
She makes me feel good
Since licensing cover songs is tricky business, I wondered… Would this band write an original for rescue? Mind you, we had never met. But what could I lose?
I asked persuasively, tossing this tender bone:
We share the Rensselaer County connection, the 'stray dog' connection, we can do a little good for one another – and the best benefit is helping the real stray dogs within the community.
Oh my DOG! That next day, guitarist Marty Satalino said he'd run it past the guys. Then communication went dark until May 22, when Marty sent this surprise:
Just wanted to let you know we are working on your song, and it is coming along nicely!
In one short month, bassist Jeff Maynard had crafted the lyrics to "Pick Me" and the band perfected their performance. They hit the studio betwixt playing Alive at Five with the Bacon Brothers and lead singer/guitarist Dave Kaskoun and his wife having a baby girl. By August 8th, the disc was done.
In honor of Dog House Adoptions' first birthday (April 13th), I'll be producing a video featuring The Stray Dogs and some of our 35 stray dogs rehomed this year. Here's a little teaser…
Brunswick Barbecue & Brew Video Shoot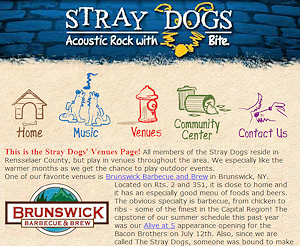 On April 5th, playing to a packed house at Brunswick Barbecue and Brew, Stray Dogs had fans dancing, laughing and learning a little bit about rescue. We shot some video, shot the sh%$, had a doggone good time, and all went to the dogs together. The following day, the Dogs entered the musical man cave of Tim and Kim Clune to shoot some additional footage.
Our musical endeavors have taken us down some interesting paths recently. On Saturday we were part of a music video masterminded by Kim and Tim Clune of Dog House Adoptions, in nearby East Nassau, NY. They found us on the internet, and we have written a song for their worthy cause of finding families for homeless dogs. Our thanks to Joel Patterson at Mountaintop Studios in Petersburg for recording us, and, of course, Kim, for her talent in persuading dogs to do the right thing.
The "Pick Me!" video will surely warm the heart and crack a smile. It might even make you tear up and laugh out loud. Keep your eyes and ears peeled for the unveiling – coming soon to a play yard near you!
Before you go, give the dogs some lovin'!