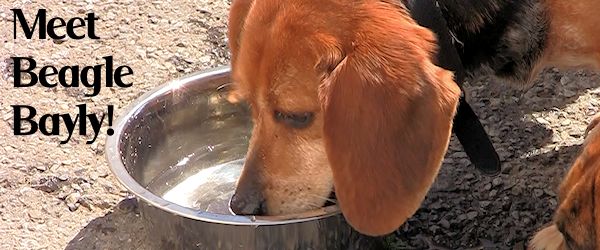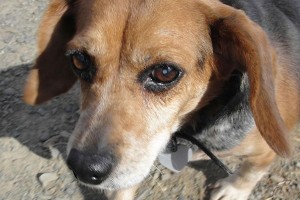 A Beagle Beauty
6 Years Young
Spayed and Vaccinated
Meet Bayly! Rescued from an  Ohio puppy mill by Steve Caporizzo in April, she's never had a chance at a real life… until now!
At just 22 pounds, Bayly's tail is always wagging – even though she's probably had about 80 puppies in her lifetime. Watch her come off a 12 hour transport to freedom, that tail still wagging a mile a minute.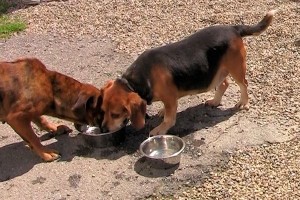 With her kind affinity for all creatures, whether people, dogs or cats, Bayly makes you smile with your whole heart. And shel gives you hers in return.
Speaking of hearts, Bayly has a heart valve insufficiency, but daily medication keeps her heart strong and symptom free. Blind in one eye, her sight in no way keeps her from exploring and experiencing the world around her on long leisurely walks.
ADOPTED!
A note from New mom, Lynne Shae:
Hi everyone! Today it's official that Bayly is ours!!! We have had her for 3 weeks now and she is the most loving dog! She loves her walks as well as her big fenced yard and mostly her cuddle time on the couch! We are forever grateful for Steve Caporizzo having Pet Connection and we are also grateful for Sherry and Gail for all the work they do at the CAPP program!!! Thank you all and God Bless You!!!
Bayly found her home through the Companion Animal Placement Program Inc. (CAPP) with support from Dog House Adoptions.