Meet Jemma. This little, white Chihuaha is so very precious and peaceful – but she desperately needs our help.
Why Jemma Needs You
Jemma was rescued from an Ohio puppy mill. Poor nutrition and overbreeding took a tremendous toll on her little body. Her legs are plagued by luxating patellas, which our veterinarian has labeled grade 4, the worst case possible. And her teeth have rotted to the gums. Every one of them has to be removed.
But hope lies on the horizon. Can you chip in to help Jemma?
How to Help
One leg at a time, surgery will cut through Jemma's rear femurs so that hardware can be inserted to allow Jemma to run and play just like other dogs.
The preliminary estimate for Jemma's surgeries comes to $1500 – $1900 per leg. Dental is separate. At just 5 years old, Jemma has so much time left to enjoy the benefits of getting two new legs up on life and eating pain free.
If her tail wagging says anything, it's that Jemma is happy to be alive and to have this chance to live a more normal life going forward. Even now, Jemma's outlook remains bright. She eats heartily, enjoying every nutritious morsel offered, perhaps a bit too much for her own good.
What's Being Done Now
The immediate goal is to feed Jemma higher nutrition in smaller amounts. She currently weighs 7.5 pounds when she should weigh 5. She must shed ¼ of her body weight to take the pressure from her languishing legs. This is the easiest part of her road ahead.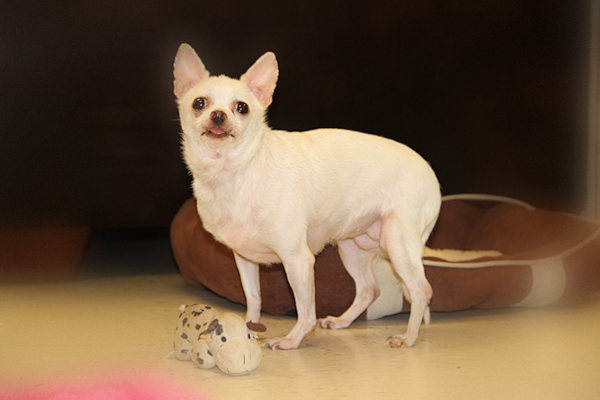 Let's Help Jemma Heal and Shine
Help Jemma take her first steps toward freedom, freedom from a life of physical output, confinement, pain and solitude. Help her rest easy as we prepare her for a family who will love her the rest of her days. Jemma's name means jewel or gem as well as little dove. Let's help this little white dove fly free and shine. Won't you donate today?
---
---
Jemma is cared for at the Companion Animal Placement Program (CAPP) with support from Dog House Adoptions. Because Dog House Adoptions and CAPP are all-volunteer, not-for-profit 501(c)(3) organizations, all donations directly support the animals in our care. Contributions are deductible to the fullest extent of the law.

PROCESSING FEES:
YouCaring does not charge fees for hosting our cause, but they will ask you for an optional contribution to continue providing free hosting to organizations like ours. The choice is yours.
WePay, the credit card processing company, does charge a 3% fee for their services. Please consider covering that cost so Jemma gets the most from your donation.
TO PAY BY CHECK:
Mail your check to
Companion Animal Placement Program
279 Troy Road, Suite 9
Rensselaer, NY 12144
THANK YOU FOR HELPING JEMMA!