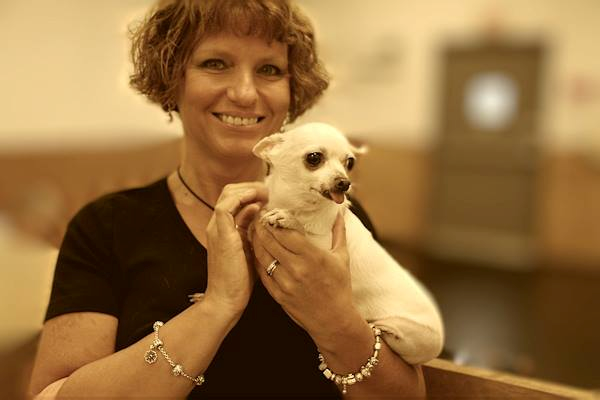 On July 3rd, we shared the story of Jemma, a little white Chihuahua. Rescued from an Ohio puppy mill, poor nutrition and overbreeding took a tremendous toll on her little body. This was Jemma then.
Well, take at a look at her now!
Jemma's first leg surgery was a huge success. She learned to run in no time and hasn't stopped since. Nobody can catch this little white light! We're pretty sure she's making up for lost time.
It was discovered during her dental that her jaw had once been broken, but now that most of her teeth are removed, she kisses and eats without a hitch. Next up is the last leg surgery for which prognosis is excellent!
JEMMA FOUND LOVE!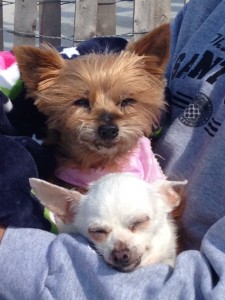 Jemma not only has enough money to heal the last of her legs thanks to those of you who donated online and in person through the Healthy Pet Center, she has gained a family. Her foster folks and their first mill rescue have fallen so deeply in love with Jemma that they won't ever let her go. Her heart is embraced by their love and kindness. That's her new mom,
Laurie St Onge-Merges, above and here Jemma is resting comfortably with her best companion – on vacation.
THANK YOU FOR HELPING JEMMA!
We congratulate Jemma, of course, but we also congratulate you for your part in this story! You helped Jemma take her first steps toward freedom, freedom from a life of physical output, confinement, pain and solitude. You helped her rest easy as she was prepared for a family who will love her the rest of her days.
Jemma's name means jewel or gem as well as little dove, and this little white dove can now fly free and shine.
Jemma had been cared for through the Companion Animal Placement Program (CAPP) with fundraising support from Dog House Adoptions.