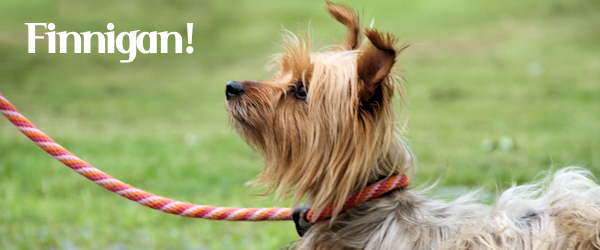 Silky Terrier
9 years young
Neutered Male
I'm an affectionate li'l bugger and I give gobs of love! 

Found near the dump like a throw-away in the summer of 2012, Finn was held as a stray for 5 days and went unclaimed. His microchip lead to a dead end.
But this wasn't Finn's end of the line. This cheerful little fella was brought into Dog House Adoptions' program and luck was looking up. He found himself a home for over a year and a half, yet Finn was returned to our pack. Although Finn got along famously with his Shih Tzu and a Pitbull brothers, human children, cats, and free range chickens, he marked the family's new wood floors during and after their construction. Dog House Adoptions didn't hesitate to take him back, hoping for a family who would be willing to work with Finn.
Finn didn't adjust well when returned to kennel life, but Cassie Hayden of Oliver's Way worked diligently to make him comfortable. She added Rescue Remedy to his higher end diet to alleviate his physical stress. She also observed Finn sneaking off to urinate, which indicated some scolding in a previous situation. When she instead rewarded him with a giant meatball each time he eliminated outside, Finn began to comply faster than you can say spaghetti dinner. As you can see, we are strong advocates for positive reinforcement.
It wasn't long before Finn got his third lucky break. All tails were wagging as Brianne, Dylan, and Brianne's young son, as well as Haley, the family's Weimaraner, came to visit. The thought of a little lap dog all her own thrilled Brianne to no end (Haley is a daddy's girl), and the young boy was so very kind to little Finn, demonstrating his understanding of dog behavior. Best of all, both dogs were exceptionally well mannered together. This was key since, regardless of human wishes and desires, the resident dog can often call the shots in blended situations.
ADOPTED!!
Finn torpedoed himself onto Brianne and Dylan's couch mere minutes into his home visit, relieved to be in a cozy space once more. Snuggling into the laps of his new momma and papa, he claimed them as his own. He eased his belly out for a gentle rub, ears fully perked with a smile on his face. In return, they signed the contract promising to love him for the rest of his years. Even Haley welcomed Finn into the home that was hers first, sharing her toys, treats and the back yard. Finn respectfully bounced behind as Haley gave a tour.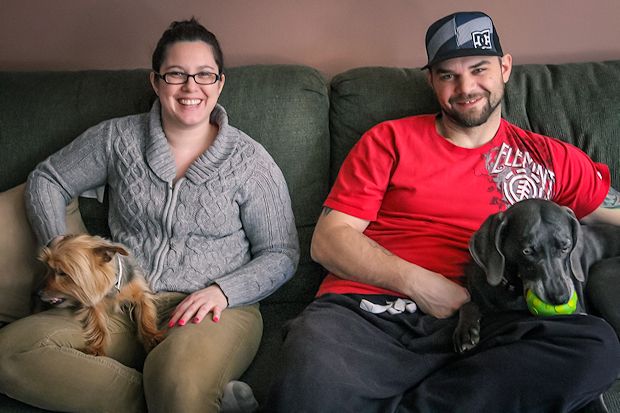 Congratulations, Finn, on finding love and stability you can count on for the rest of your days. And congratulations to every member of the family for having found a deep friendship and love in each other!