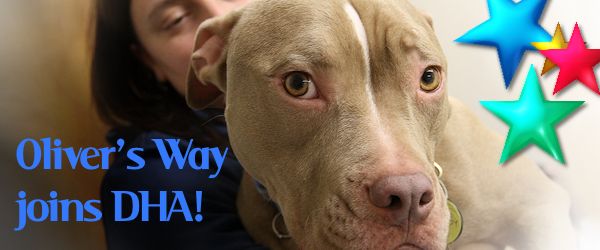 Please put your hands together as we ecstatically welcome Cassie Costantino Hayden to the Board of Dog House Adoptions. But that's not all to applaud! Cassie's pet sitting business, Oliver's Way, is now home to every one of our tippy-top dogs in transition!
So who is the amazing woman behind this business named after a dog called Oliver?
Meet Cassie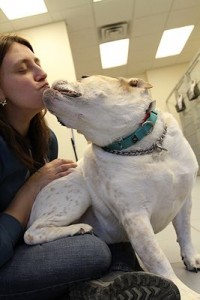 Cassie has a grand scope of dog knowledge based on her professional experience at area kennels and vets, foster mom experience for over 100 rescue dogs and puppies, and as owner of both dogs and (shhh!) cats. As a valuable volunteer for organizations like Out of the Pits, Peppertree Rescue, Animal Protective Foundation, and The Animal Support Project (TASP), Cassie has a strong understanding of how rescue organizations operate, how each can work together for the greater good, and she never loses sight of the importance of private volunteer networking. She can often be found coordinating with several private and organizational parties at once to provide the best help possible to local dogs in need.
As a certified Animal Behavioral College Dog Trainer, Cassie's mentor is Cydney Cross of Crossroads for Dogs. For nearly two years Cassie has taken dogs through and/or assisted Cyd with CGC classes around the Capital District. She has taken many of her foster and dogs through CGC training as well. With respect to Cyd's words, "Dogs are what we make them, either on purpose or by doing nothing," Cassie has done the far opposite of nothing. Cassie has made dogs  the focus of her home, volunteer life and now her professional labor of love as well.
Already a Record of Success
Cassie started her pet sitting company, Oliver's Way, to offer training, feeding, exercise and play to dogs, whether in their own home or at a kennel space located at Troy Veterinary Hospital. And now she houses our dogs in Troy too.
When we first explored our options together, a little Silkie Terrier named Finn had been returned. Cassie took him in, calmed him down, fed him Rescue Remedy and worked to build his confidence as well as the skills he needed to find love once more. In just a few weeks, Finn charmed his way into a new home thanks, in large part, to Cassie's skill and dedication.
Cassie also informed us of two wonderful rescue dogs in her care who we eagerly accepted into our program — the sweetest hairless pitty pup named Bella and a ham of an Olde English Bulldogge named Knuckles. Last but not least, she brought us two black and white pittie puppies that will absolutely melt your heart.
knuckles
Olde English Bulldogge
http://www.doghouseadoptions.org/wp-content/tn3/2/2014.03.12Knuckles012.jpg
We can already see how good this relationship is for every one of our dogs. And here's a hint as to why…
Oliver's Way with a Twist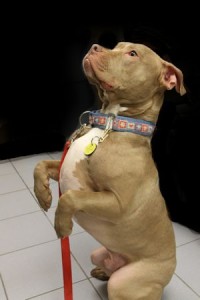 Cassie's business is named for little Oliver Twist who was just 7 weeks old when he and his mom were rescued from wandering the roadway's double yellow line. Both have been with Cassie ever since. As Cassie  says:
"Oliver is a very special red nosed pit bull.  Besides his loving, happy personality, he is a decorated agility dog and a certified therapy dog. Oliver is an AKC Canine Good Citizen and holds CL1 and CLT2-S titles in agility. He received his first agility title at 15 months old.  He is also certified by Therapy Dog International (TDI) both as an individual and a tandem with two of my other dogs, MG and Nimee. Oliver was just a year and 3 weeks old when he passed his TDI test. He also has passed the American Temperament Test."
You just don't get more loving, better behaved, joyful inspiration than Oliver! And Oliver never would have come so far without Cassie. Our rescue dogs will be lucky to be in the presence of Cassie and Oliver's calming company … and it's not just theirs!
Meet Cassie's Superstar Crew
In addition to Oliver Twist, Cassie lives with 5 other rescue dogs, each with a special talent to benefit people and pets. All of Cassie's dogs have obtained their AKC Canine Good Citizen (CGC) Title working with her. Her household also usually includes one or two foster dogs for Out of the Pits … and now two rambunctious new puppies for Dog House Adoptions.
Beans

CGC, CLH-1, CLR-1
Beans is a Flat Coated Retriever/Collie mix adopted from Kindernook Farms. He is the old man of the house, a gentle soul who loves everyone, human and dog.

Lucy Lulu

CGC, Counter Surfer Pro
Another gentle soul who loves everyone human and dog, is Lucy. She was brought to Cassie by Beans. She is the old lady of the house. Although quiet, she is by far the most intelligent dog of them all.

Mindy Mae

CGC, TT
Mindy is Oliver's mom. Mindy is the mother to all orphaned pups. She teaches the pups dog skills that humans can't.

MG

CGC, TT, TDI, CL1-R
MG is  the agility star. She's a high-drive, must have a job, type of dog! MG know all sorts of tricks that wow the children she meets during Therapy Dog visits. She and Oliver also have their tandem TDI title. MG stands for Mighty Good!

Nimee

CGC, TDI
Nimee only has her two back legs, but that doesn't stop her. She loves to do Therapy Dog visits at local hospitals in her wheelchair (also known as a cart). She doesn't need it though. Nimee can jump on the couch and bed just like my other dogs! She is also certified as a tandem Therapy Dog International dog with Oliver. Follow Nimee on Facebook.

Here's Oliver, again…

Certification Key:

CGC – AKC Canine Good Citizen
TT – Temperament Tested
TDI – Therapy Dog International
Welcome to the Team, Cassie and Canine Crew!
Having worked with Cassie in various capacities reaching back roughly 10 years, we are thrilled to join forces once more. It' a pretty awesome relationship for the good of our local dogs in need, wouldn't you say?!