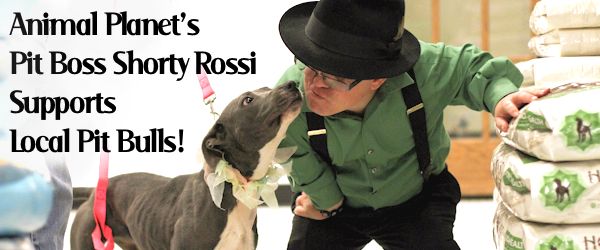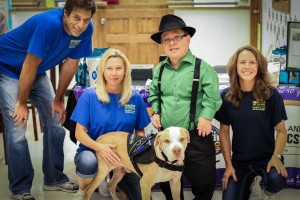 When Shorty Rossi from Animal Planet's Pit Boss visited the Healthy Pet Center in Delmar Friday, October 4th, folks from NY's Capital Region streamed in knowing first-hand that Pit Bulls are often a misunderstood breed. Shorty spent time posing for photos with people and their dogs, talked with WTEN, and smooched it up with Hadley (above), the sweet little pittie – adoptable right now through the Companion Animal Placement Program. Hadley and Shorty's therapy dog, Hercules, explored the store together discovering toys and treats to make tails wag.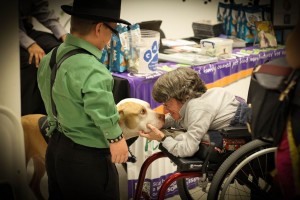 Most heartwarming of all was the chance for a long-standing fan to meet him in person – in utter surprise. Kelly Slingerland wrote the following on Healthy Pet Center's Facebook wall:
Thank you for this opportunity. I work with a disabled woman (has a disease that won't allow her to grow more than a few feet) she is 47 and loves Shorty Rossi!

I am surprising her and bring her tomorrow! She will be thrilled. See you at 2!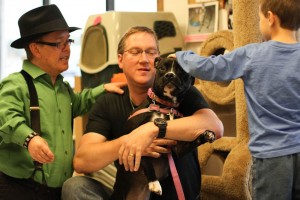 Last but not least, Molly arrived on the scene, a lovely little pittie rescue who bounced through the store playing with every living being in her path. Her adoption was inspired by the show Pit Boss and her human "grandmother" was extremely fearful of pitbulls until she met Molly – who turned all negative perception on it's ear.
More About Shorty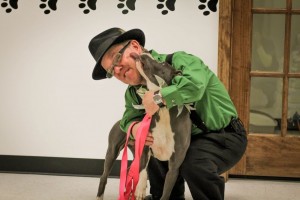 Shorty knows about getting a bad rap and the importance of a second chance. Involved in a gang-related shooting and convicted of several felonies by the age of 18, her served 10 years, 10 months and 10 days in prison where he turned his life around.
Once released, Shorty made a fresh start in entertainment, from stage shows, commercials, and television to films including "The Grinch" with Jim Carrey; "The Kid" with Bruce Willis; "Call Me Clause" with Whoopie Goldberg; and ShowTime and "Daddy Day Care" with Eddie Murphy. In 2000, Shorty founded his own company, Shortywood Productions, to provide and manage little people entertainers.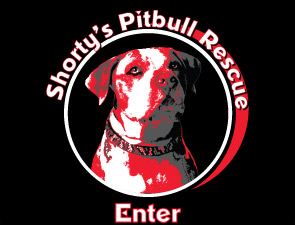 Shorty credits his pit bulls, which he has held dear since the age of 14, with "saving his life." They have been "loyal companions through some of the roughest times," this according to his bio – which goes on to say:
Because of this, Shorty took on another huge endeavor, forming Shorty's Pit Bull Rescue, a second business which rescues, rehabilitates and places neglected and abused pit bulls in loving, nurturing homes. Shorty's Rescue is not a shelter or a charity; its employees work tirelessly to help relieve the suffering of and prevent cruelty to pit bulls through education and activism. Through positive pit bull involvement in the community, Shorty's Pit Bull Rescue influences a healthy/much-deserved reputation for the breed.
Injured in a stunt, Shorty  trained one of his pit bulls to be a service animal, and he has been actively involved in the Americans with Disabilities Act (ADA) community ever since. Currently, two of Shorty's dogs are registered service animals with one in training.
More About Hercules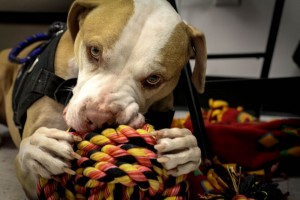 Hercules, rescued at six weeks old in Las Vegas, was a destructive puppy during his first nine months of life. Now, at nine years of age, Herc has had a long loyal life as Shorty's closest companion and second service animal. In addition to his service-dog work, Hercules also attends charity events and has performed in film, commercials and television (complete with his own IMDb page). As Shorty's website says of Hercules:
He has traveled all over the country and promoted himself in a positive light…even thought pit bulls usually have such a bad rap.
Learn the facts about pit bulls like Hercules. Visit Shorty's Pitbull Rescue website today!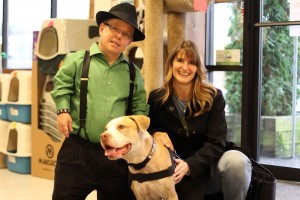 We're glad to meet you, Shorty and Hercules.
Thanks to NutriSource for bringing you our way!