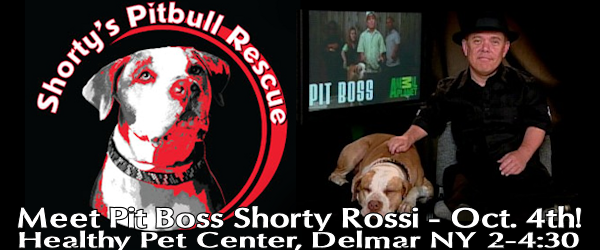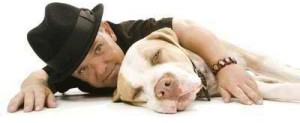 Shorty Rossi from Animal Planet's hit show Pit Boss is coming to Healthy Pet Center in Delmar this Friday, October 4th from 2:00 – 4:30! Stop by to meet him and his dog Hercules, get a signed autograph, snap a picture, and hear about Shorty's second chance experiences – for both himself and his rescue dogs!
As a third generation dwarf, ex-gang member, and ex-con, Shorty's life isn't short on adventure and adversity but he turned himself around and is now an outspoken advocate for pit bulls, the most misunderstood breed of dog in the world. You can read the whole Shorty Rossi story on Animal Planet.
For the short version, Animal Planet says this:
After 10 years, 10 months, and 10 days behind bars, Shorty gained his freedom and the chance to put his entrepreneurial and negotiation skills to the test. He cut the ribbon on his own business, Shortywood, with three goals: to turn his life around, act as a talent agent for little people and establish and fund charities that advocate for, rescue and place abandoned or abused pit bulls into safe homes. In the process, he became a reality TV star. Now, with Hercules, his rescued pit bull and newly trained service dog by his side, Shorty continues to save pits from the basements and backyards of breeders and abusers while taking on new and even bigger challenges. And nothing is gonna stand in his way.
If you aren't familiar with the show Pit Boss, this was a bit of flavor, and on Friday, you get to meet the stars! We'll see you there and we'll have our Large and Extra Large tee shirts on sale. Get them for $20 while they last and have Shorty Rossi sign one!!