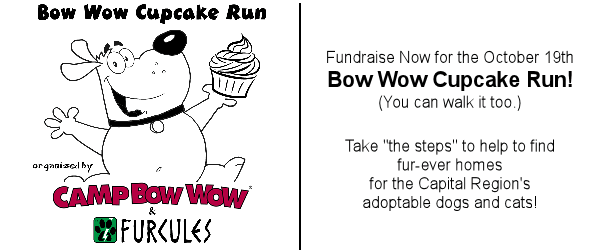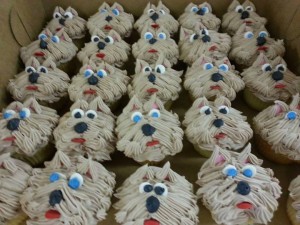 Participate in the Bow Wow Cupcake Run to help find fur-ever homes for adoptable dogs and cats! Proceeds of your fundraising effort will be split evenly between Steve Caporizzo's Pet Connection and the Bow Wow Buddies Foundation.  After surpassing your fundraising goal, you'll join with other caring animal enthusiasts on October 19th to run (or walk) in the Maddie's Mark 5K!
If you are in a position to lend a paw, please pledge your support by making a tax-deductible donation online and naming Dog House Adoptions as the recipient. We'll be joining the Companion Animal Placement Program for many more mill dog rescues very soon, but we need the means to do so! A donation of any amount is appreciated.
ABOUT STEVE CAPORIZZO'S PET CONNECTION: Steve Caporizzo, Chief Meteorologist for WTEN in Albany, started a news segment in 1990 called Pet Connection to highlight interesting local animal stories and introduce viewers to pets available for adoption throughout the viewing area. Since then, Steve has raised over $300,000 and helped find homes for more than 5,000 dogs and cats.
ABOUT THE BOW WOW BUDDIES FOUNDATION (Camp Bow Wow's national charity):  The mission of the Bow Wow Buddies Foundation is to promote the health and welfare of animals worldwide by focusing on finding foster and lifetime homes for unwanted animals, promoting humane education and treatment, and investing in research and treatment for those devastated by illness and disease.
CAMP BOW WOW ALBANY AND FURCULES: Camp Bow Wow Albany is a pet care franchise providing in-home pet care, dog daycare and overnight boarding, and dog training.  Furcules provides custom embroidered animal collars and leashes for pets.  Camp Bow Wow Albany and Furcules are organizing sponsors of the Bow Wow Cupcake Run.
Thank you for your support!!