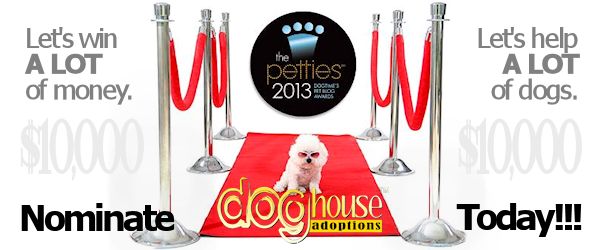 Stray Dogs' new video, "PICK ME!," if nominated for the DogTime Petties Awards, would truly help orphaned dogs in one local community – and around the world.
At the very least, reaching the voting round offers visibility on DogTime.com, a website that touts 40 million unique national and international visitors each month. We can spread the adoption message to a LOT of people, and that alone is a huge win. Isn't this just the best message to share?
Read how "PICK ME" came to be!
But we can do so much more. With your help, we have a great shot at winning a "best of" category. And, if Dog House Adoptions is awarded the $10,000 grant, they can help A LOT more pups.
Thank you for helping us win big for the dogs! Please, share this opportunity with everybody you know.
Ready to Nominate? Here's How!
The super duper rescue to nominate?
Dog House Adoptions, Inc.!
Just visit: http://petties.dogtime.com/nominations
The two URLS to cut and paste:
LET'S WIN A LOT OF MONEY. LET'S HELP A LOT OF DOGS!
You can nominate once daily through Friday, June 28th, 2013 at Midnight PST.
One lucky rescue gets a whopping $10,000 from DogTime during their 2013 Petties Awards!! Category winners receive a personalized Petties trophy and a $1,000 donation to the shelter or rescue of their choice.
Here's what our ballot looks like…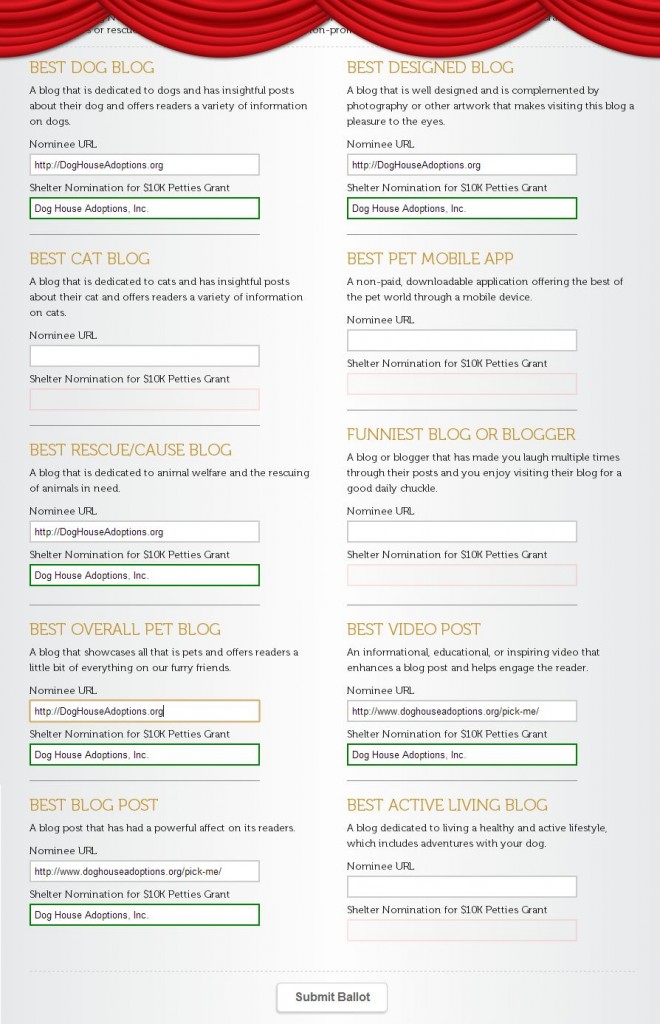 Thank you!
Please Share!