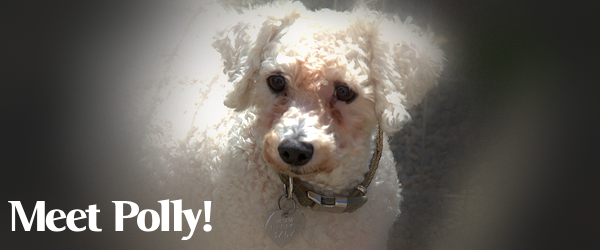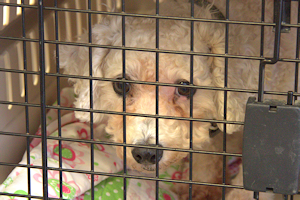 This sweet little Bichon Fris was rescued and transported from an Ohio puppy mill by Steve Caporizzo in April. At that time, Polly was so quiet and reserved when people were around, we had no idea what a spunky little pup she was.
You can see inklings of Polly's spirit eeking out in the video below, as she first ventures out from her crate.
Did you see that spring in her step? Yeah, we did too. The thing is, when Polly thought nobody was looking, she would dance around, romp, and play with her mill rescue pals.  She certainly wasn't as quiet and reserved as she wanted us to believe.
While still cautious, Polly has also learned that she may have underestimated people the same way we first underestimated her. She now knows that we aren't quite as scary as she first thought.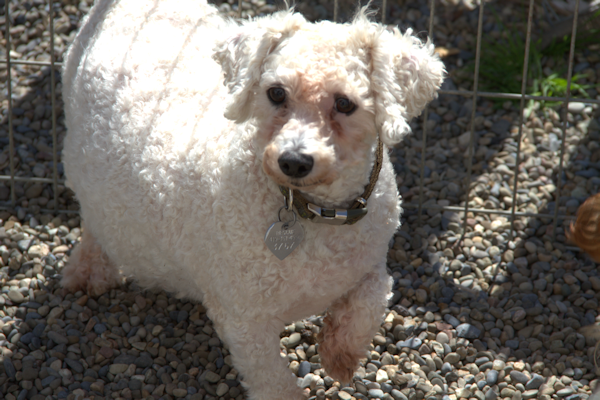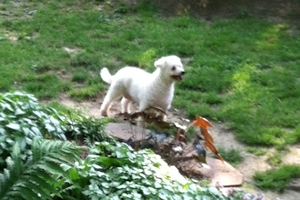 By late May, Polly set foot into a wonderful foster home. But she didn't pussyfoot around. She charged in fearlessly as though she owned the place. Freedom truly suits Miss Polly, who sunbathes as frequently as the weather allows in her lush – if temporary – back yard. She's blossoming in new ways daily. And with a little bit of grooming, all traces of mill filth have been replaced with fresh scents and bright, white fur.
Oh, and she' great with cats!
Adopted!
The ticket Polly needed to get out into the world and meet her new family was a double header. Featured on Steve Caporizzo's Pet Connection on Thursday and Friday, Polly found her forever family on Saturday at Curtis Lumber's special Petapalooza  adoption event. This family has the patience to show her oodles of forever love and a yard to offer a lifetime of freedom from stacked and cramped chicken wire cages.
Polly will have her trepidatious heart nurtured with soft caresses, gentle cuddles, rambunctious playtime and snuggly sleep. She will forever eat nutritious food to make up for the substandard diet of her early years. (She may have lost her teeth, but she's still smiling, sometimes tongue sweetly to the side, and she loves her dinner as much as any dog would.)
In return, Polly will reward her new family's kindness with well-earned trust, the likes of which they will know means more than anything in this world.
Congratulations, Polly, to you and your new family!! We're so proud of you!
Polly was adopted through the Companion Animal Placement Program Inc. (CAPP) with sponsorship from Dog House Adoptions.