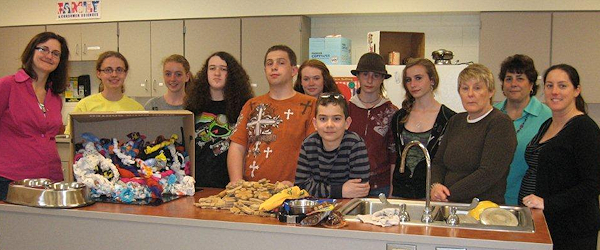 The Brunswick/Brittonkill Central School District includes some very kind and generous students, faculty, and staff who care about dogs.  Recently, a couple of special projects were carried out by groups at the district which benefited some very deserving Dog House Adoption-supported pups.
Freshmen Bake Pumpkin Dog Treats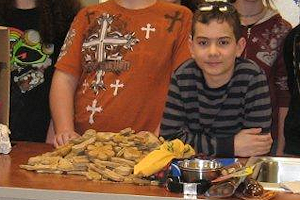 In April, members of the Tamarac High School Freshman Class (Class of 2016) baked healthy and delicious treats for the sweetest pups which were rescued from an Ohio Puppy Mill.  Companion Animal Placement Program (CAPP), a not-for-profit, all volunteer animal rescue organization located in the Albany recently rescued seventeen (17) dogs from very unfortunate circumstances and brought them to the Healthy Pet Center in Delmar.  Dog House Adoptions is working in cooperation with CAPP to find homes for the dogs, and to raise awareness of the perils and abuse associated with puppy mills.
The mill dogs, many of whom had never experienced human kindness, let alone homemade treats, were wildly enthusiastic about the baked goodies donated by the Tamarac High School Freshman Class. Ingredients for the "Dig N' Cheese", "Pumpkin Dog Biscuits" and "Milk Bone Dog Biscuits" were either donated by the faculty and staff at Brunswick Central School District or bought with THS Class of 2016 funds.
The Pets are Wonderful service project included the following students:  Dana Proctor, Brooke Tuttle, Carly Connor, Hannah Ryan, William Chase, Sarah Harris, Kathleen Renna, Cierra Deuel, Molly Dickinson, Mike DelGiacco, Scott Clayton, Tabitha Waters, Nick Fisk, Lydia Waters, Eliza Johnson, and Rachel Doody. Advisors to the Class of 2016 and organizers of the service project were Vickie Russell and Theresa Hilton.
6th Graders Craft Dog Toys from Tees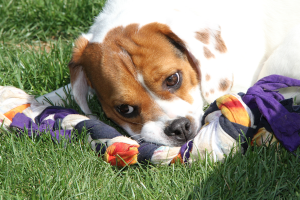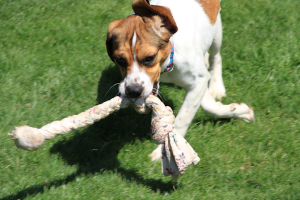 To ensure that the rescued mill pups had the right tools to learn how to play, students from the 6th Grade made toys for them.  With t-shirts collected at the school, students cut the shirts into strips while others braided the fabric into play toys.
Student and teacher toymakers included:  Catie Croson, Sophia Baldwin, Haley Honsinger, Hunter Yearsley, Cassidy Galipeau, Ryan Hayden, Francesca DiScanio, Zachary Hudson, Alyssa Remington, Ben Pusatere, Sara Kuiken, Riley Willsey, Gabriella Ward, Abigail Koblenzer, Jesse LeVan, Taylor Nitz, Brian Moulton, Tyler Bogan, Mary Gilpatrick, Pat Villa, and Michael Bentzen. Judy Burton organized and oversaw the toy-making project.
In addition to the treat and toy-making projects, the staff and faculty at the Brunswick-Brittonkill Central School District have held periodic towel and blanket drives to support the dog rescue efforts of Dog House Adoptions.
Thank You!
To the students, faculty and staff of the district, Dog House Adoptions and CAPP salutes your kindness and support. Look at how happy your homemade treats and toys made these dogs, and several brought their favorite toys to their new homes!
This is just one of the dogs' happy endings!