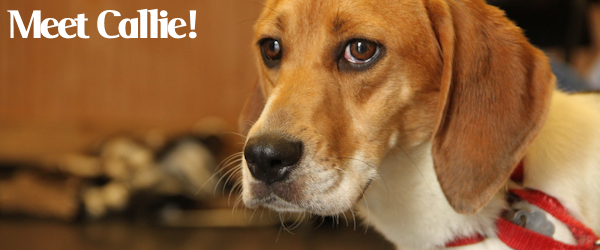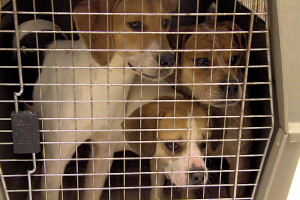 A Beautiful Beabull Blend
10-Month-Young Female
Spayed and Vaccinated
This lovely little Beabull dog was rescued and transported from an Ohio puppy mill by Steve Caporizzo in April. Being so young, Callie never presented with the telltale signs of being a mill dog. She zipped around Delmar's Healthy Pet Center play yard the minute she was released from her transport crate.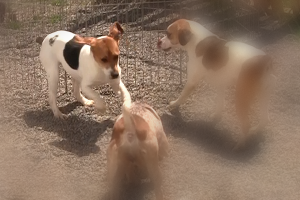 After 12 hours stacked with 17 other dogs on a ride to freedom, Callie wasn't about to squander a minute of this new life. Watch how this wonderful wiggle butt with the black saddle patch on her back joyfully investigates every square inch of new space and greets everybody in her path. She gets so excited to be romping with her friends, she loses traction on her way inside! (Start at 3:55.)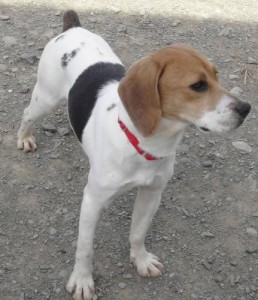 Since puppy mills often misrepresent the breeds they sell, Callie isn't likely the typical designer Beabull dog. She's a bit leggy and possibly part Foxhound. In an attempt to fake folks out, the mill cropped her beautiful tail. But when she wags her whole butt, you can absolutely tell she's in a deliriously happy mood.
Adopted!
At just 30 pounds, this pup has filled her new owner's hearts with the lightness of joy. She is simply a beautifully spirited girl who needed a patient household willing to train her to be the gem that she is meant to be – and she found one! Congratulations, Callie!