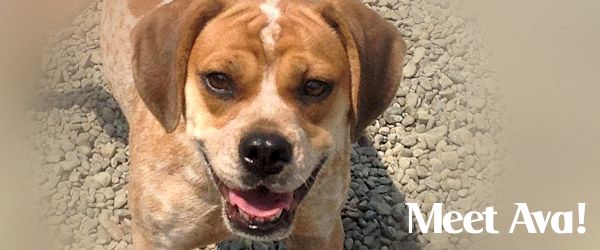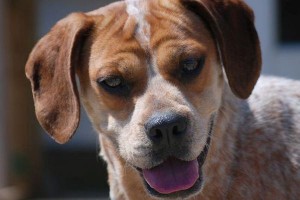 This lovely little Beabull dog was rescued and transported from an Ohio puppy mill by Steve Caporizzo in April. Ava was never reclusive, a telltale sign of emotional mill damage, like some of the older dogs. She zipped around Delmar's Healthy Pet Center play yard the minute she was released from her transport crate.
After 12 hours stacked with 16 other dogs on a ride to freedom, Ava wanted to meet every human she encountered. You can see how enthusiastic she was to be greeted with kindness for the first time. (Start at 3:55.)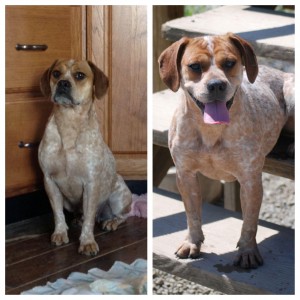 From the moment of her arrival, Ava has been lovingly cared for at Pack Ethic, an animal rescue and sanctuary run by Eric Bellows and Keri Whitfield.
When Ava first arrived to this magical place where animals run together and free, Eric had this to say:
Ava is very timid but warms up very fast. She will come around in no time.
Well that she did. Just look at her before shot versus her smiling after shot! This comes from being in Pack Ethic's care a very short while.
Kindness makes all the difference and you can offer that too.
When Ava meets Buckshot, another dog at Pack Ethic, Eric says:
Her first instinct is to hump because of the surrounding in a puppy mill that is all she knows but she quickly taps into her inner puppy and begins to play.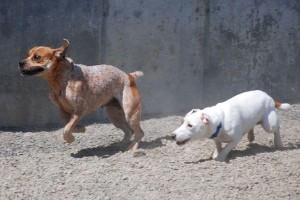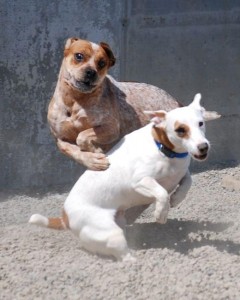 Shaking off so much of her past, Ava is finally "Free to Be Me!" She is reveling in the present and ready to leap into the lap of her future. Do you have that lap to offer? At just 30 pounds, surely she's not  too big to be a lap dog, is she? We didn't think so.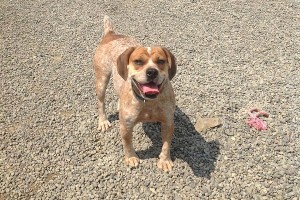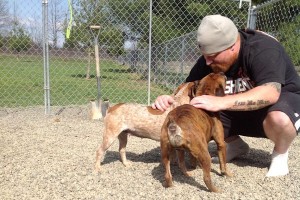 All photos by John Norton and Keri Whitfield
Ava has always exhibited a happy spirit, regardless of her starting point in life. While it took a bit of time to freely let that spirit shine, Ava has since grow comfortable in her own skin. 
At 11 months old, Ava has a long life to look forward to with a family who will always protect her from harm, who will love her to pieces, and who will treat her with the utmost respect that all living beings deserve.
Adopted!
This little girl's soul may have been nourished with great love from the good people at the Companion Animal Placement Program Inc. (CAPP) and Pack Ethic with sponsorship from Dog House Adoptions, but now Ava found a place she can truly call her own. There is no greater gift than family!