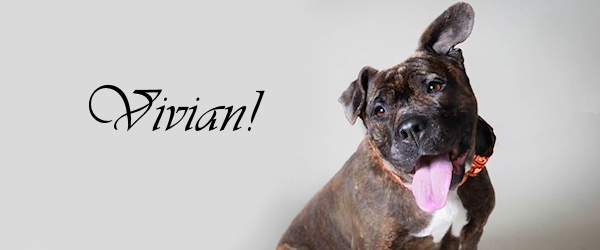 Perky Li'l Pitbelle
6 year old Female
Spayed and Vaccinated

Vivian has been adopted and settled into her new home perfectly! 
Vivian's History
Vivian, a gorgeous brindle pitbelle, has been on quite a journey in a very short amount of time. Rescued from death row on December 9th, 2014, sweet Vivian had been cooped up in Schenectady stray hold for a full month. Never claimed, nobody knows her prior story but for evidence that she's had a litter of puppies at some point. Since her rescue, she spent another two weeks kenneled until Bonny K., a wonderful but temporary foster stepped up. Sadly, that situation is quickly coming to a close.
Vivian needs a safe new space immediately.
Vivian's Winning Personality
Vivian couldn't be happier to greet anybody who pays her attention. She is very outgoing, affectionate and friendly. Vivian knows how to sit and she's very good at taking treats gently. She loves her Kong toys, which keep her occupied. She also loves car rides and does well both loose or in a crate. She doesn't bark much but ,when excited, you'll find she thinks she's an owl with a bit of a screech. Vivian was spayed, vaccinated and treated for a healing skin irritation on her foot and tale, which is all healed up now. The poor girl has been bred way too much in her past life. And yet she is as goofy and talktive as ever.
Thank you for the outdoor photos, Jenny Murtaugh!
UPDATE 5/21/15:
Vivian has started her Canine Good Citizen Classes (CGC)! She did amazing at her first class and got LOTS of compliments on how great she is! She is such a sweet girl, so calm and loving. She deserves a foster home or even better, a forever home! Please consider opening your home to foster this lovely girl! Pictures do NOT do her justice! She is a little peanut and has such a sweet, kind face.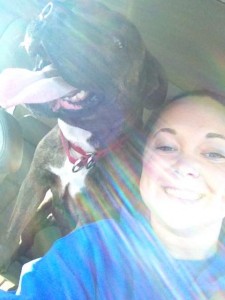 Become Vivian's Best Friend, Today!
OR
Fill out an adoption application at http://www.doghouseadoptions.org/dog-adoption-application
Once your application is in, we'll get in touch. (It may take a week for us to process.)
If this is truly the pup for you, we'll do a home visit. If that goes well, you'll sign the contract, pay the non-refundable $250 adoption fee, and enjoy life with your new dog!
Please note: We keep our adoptions to within a 90 minute radius from Albany, NY, which is most central to our foster network.