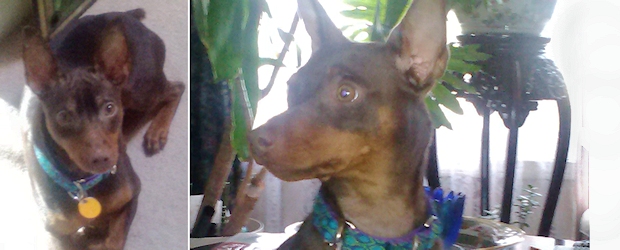 This chocolate miniature pinscher was pulled from the Schenectady Animal Shelter on January 2. Placed in a home with a loving couple, a fenced in back yard, and a 9 year old lethargic female dappled dachshund, this pup did his best to take charge!
Bill Lundgren, this dog's foster failure (in a most heroic of ways), had this to say:
DHA named him "Trike", he has been re-named "Trevor Martin", and has worked his way into the hearts of his foster family. For sure, this "foster" home will be his "forever" home. He's making such great progress, although he's quite a challenge being a Min Pin. Still very much a 'baby", and his energy level is boundless. His "manners" need a little work, but his goal is to please and be loved. He is settling in quite nicely, and is working so very hard at being a "good boy".
Another note came in on 3.2.2015:
I can assure you that "Trevor-Martin" has found his forever home.  After this year, he will be spending his winters at our Florida home, and within 5 years he will become a permanent resident in the State of Florida.  He's definitely a challenge, but nothing that we can handle because try as he may, he knows that I am the Alpha Human and that our little dappled dachshund "Bowie-Ty" is the Alpha female dog in the house, she reminds him daily of that!
We couldn't be happier for this tiny rescued boy with the biggest personality. Congratulations to the whole family!