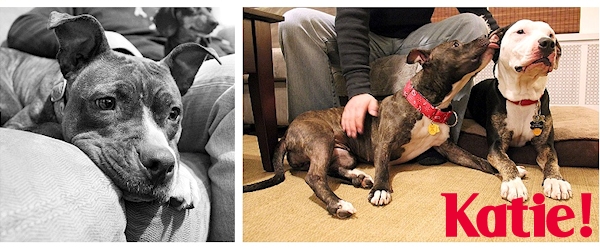 Perky Li'l Pitbelle
2-3 year old Female
Spayed and Vaccinated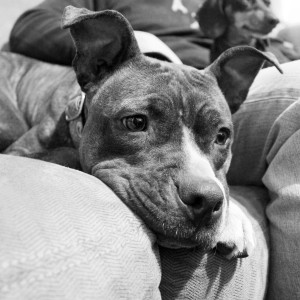 Katie is a very curious, playful girl! She is super gentle taking a treat from your hand and overall a very laid-back, mellow girl. She has playful bouts and enjoys playing tug with the rope or chasing after a ball and plays well with other dogs.
Since her foster mom. Melissa Stafford, knows her best, here's what she has to say:
The family who adopts this sweetheart will be very lucky indeed – she is just so gentle and happy! A few observations from the past few days:
Katie has the best mealtime habits I have ever seen! She eats her food very slowly, as if she is savoring every bite. And if you give her a treat, she takes it very gently from your hand. I hope she might be able to teach our own dogs how to eat like her ;-p
She LOVES belly rubs!
Katie knows a few commands! She can 'sit' and give you her paw when asked. She is very eager to please.
She has this funny little walk sometimes, a sashay. And she is super light on her feet! She's a bit cat-like. (we are used to our big goofball Charlie, who is the opposite of graceful)
Katie is great with our dogs, both big and small! She LOVES playing rope with our Charlie and running with him in the backyard. I think she would really enjoy being in a home with other doggy siblings (and would probably be equally OK with getting all the attention for herself ;-p)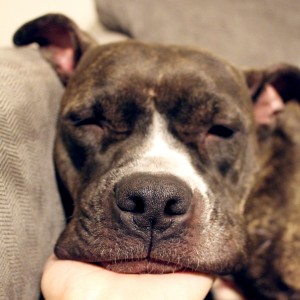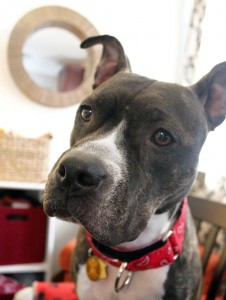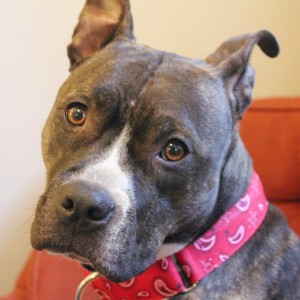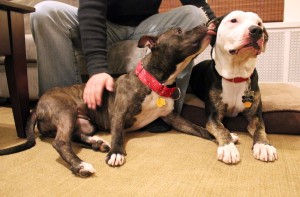 Katie is fully house-trained and sleeps every night in her crate. She is also crated when alone in the house. Katie knows a few basic commands like 'sit', 'down' & 'paw' and is continuing to pick up others – she is a fast leaner and is eager to please! On walks Katie has a slight tendency to pull but overall does very well on the leash.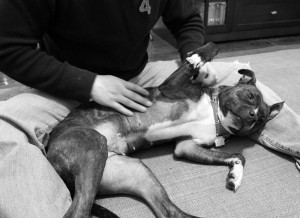 Katie shows no food aggression at all (we have placed our hands in her bowl while she was eating and removed it from her – not a problem). She is a very good eater and takes her time with her meals. She is currently living with five other dogs and two cats and gets along great with everyone! She hasn't had much experience around kids, but I think she would be great with them. She is very gentle!
Thank you for the photos, Melissa Stafford!
 ADOPTED!
A note from Katie's foster mom:
Ah, the luck of the Irish! We are very happy to announce that Katie, our amazing foster dog, finally found her forever home! She is SO loved and already went on her first skiing adventure with her new family.

Fostering has been such a positive experience for us and we would love to see more foster parents out there, it truly makes a difference for these pups and helps to save so many lives.
Anita and Dot, Katie's new moms say Katie's all settled in Vermont now, loving her new bed, and being such a good girl. She's filling the void left by their prior dog and helping the healing process already by giving so much joy. She even met her new vet. Her name has a new twist, too. Adopted on Pi Day, Katie is now fondly referred to as Katie Pi!
We know this cutie pie, Katie Pi, is going to have a wonderful life, as will her new family. Congratulations, Katie!!