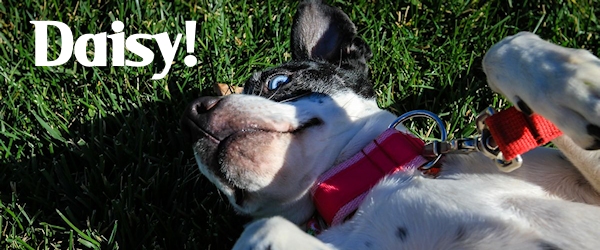 Who is Daisy?
Daisy's pretty petals are many. Of course, with her blue and brown eyes, she's gorgeous – but her beauty runs deep.
An affectionate little girl, she'll stretch her entire body across the lawn for a head pat and then somersault onto her back for a belly rub. Nothing makes her happier than to sit by your side, leaning in forehead to forehead while you stroke her sides. Daisy is bright and cheerful, just like her name implies and, at 6 years-young, she's seeking moderate to low energy beings like herself. She's a tad cautious on first meetings but quickly warms up. Once that happens, she is certainly no wallflower!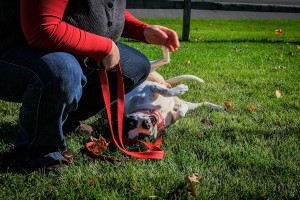 Daisy is super smart and eager to please, already knowing basic commands and wanting to learn more just to make you happy. Happiest in clean surroundings, she will keep your house that way. She's working on crate training, but would much prefer her hours spent out with her humans.
Favorite Things
Her favorite activities include leash walks, tossing toys and, best of all, pouncing into a play bow for a rousing romp with her dog friends. Even with such a wide variety of favorite activities, napping by your feet ranks highest.
Unfavorite Things
Loud noises and the start of car rides can jar her sense of calm, but she does resettle quickly, even in the car. (Oh,and she didn't much like the camera, so you'll see she's even more beautiful in person.)

What Daisy Needs Most – You!
Most importantly, Daisy is a soft, sensitive soul who needs somebody who understands that she has led a tumultuous life. Her people pushed her out the door, still unspayed, after she had puppies. Shell shocked when she came to us, she tends to feel a bit anxious until she settles into her new routine. (She is spayed now, by the way.)
Daisy is doing very well with her foster mom, Carrie Moak, loving reassurance that she is loved and safe.
Adopted!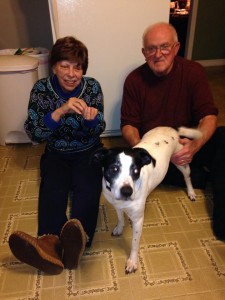 Here's a note from Daisy's foster mom, Carrie Moak:
It was very hard to say goodbye to my foster sweet Daisy. She went from a flea ridden, skinny, breeding machine to being adopted by a lovely couple. Forever a part of us Daisy Girl. Enjoy your forever home. The new dad is really happy- me not so good at catching a good pic!!
It's a lovely pic, Carrie. Daisy is going to be one very happy pup, thanks to your intermediary care! Congratulations to you all!!
daisy
The Playful Pointer Mix
http://www.doghouseadoptions.org/wp-content/tn3/2/11-11-2014271.jpg