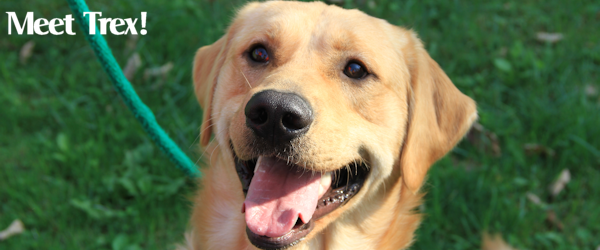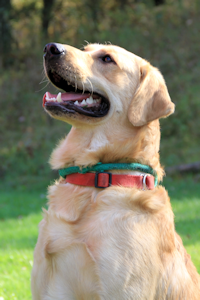 A Golden/Lab People-Lover Blend
Ruffly 2 Years Young
Neutered and Vaccinated
Hi! I'm Trex! Got a tennis ball for me? I'd love to play a game with you!
Trex is a real people dog who loves to give and receive affection. He has mastered several tricks, including sit, give paw, and he is learning to walk well on a leash. As for car rides, Board Treasurer Audra Bentley had this to say about chauffeuring Trex back from his neuter appointment:
Trex was a wonderful boy this evening.  He greeted me with a hug and lots of kisses at the vet.  He sat in Tiago's lap most of the trip back to the kennel.  He just wanted to snuggle and kiss both of us.
Picked up in Schaghticoke in August of 2012, Trex wasn't quite as well behaved. He was nervous about his new surroundings and unsure about his future. With reward-based guidance from caring volunteers, Trex has truly grown into a house-dog personality with a list of manners growing longer by the day.
Trex loves to play, especially with his tennis ball. And he'll do just about anything for a tasty treat. These make perfect rewards for being such a good, good boy – and Trex knows it. This sweet dog can be molded into your perfect companion in no time.
ADOPTED!
Trex found his perfect family and home. They report that, while he's been there for just a short while, it feels like he's belonged forever. Congratulations, Trex!