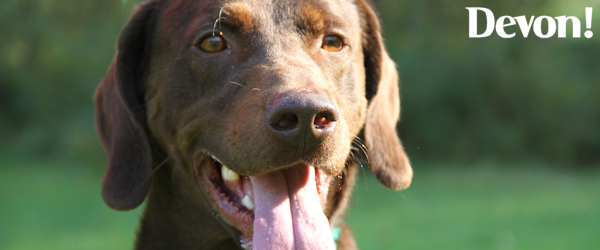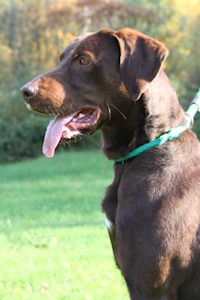 Chocolate Lab Weisencracker Blend
Male, Under 2 Years Young 
Vaccinated and Neutered 
Hi, I'm Devon! I'm young, adventurous, and craving your attention. And I found my special people!
Devon was found swaggering through Sand Lake in September of 2012. His gorgeous, chocolate-colored coat must be pocketless because left his wallet and ID at home. He clearly doesn't see the problem. He knows exactly who he is. It's only us left guessing.
Devon's personality matches his physique. He's strong on all counts. This high energy boy loves to run, jump and play and he's fit as a fiddle because of it. With keen awareness of his surroundings, Devon's eyes, ears and nose aim for an open car window on rides, taking in the sites and sounds. (Overwhelmed when cars drive toward his own moving vehicle, we find that covering his crate with a blanket calms him significantly.) When all eyes aren't on Devon, he'll get your attention somehow, whether rubbing against you with his whole body or calling to you from a distance. He simply craves attention and he's just now learning to make a significant human connection.
Devon is young and with immaturity comes a need for training. Once he's well exercised and settles down, he sits quiet and leans his whole body in for a good ear rub, giving back all the love he gets.
ADOPTED!
Dave and Jackie from Esperance have the capacity to understand Devon's quirky ways and offer guidance while providing security of heart for this beautiful boy!