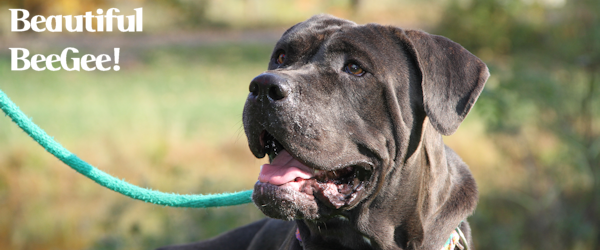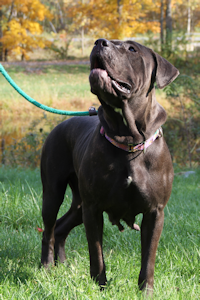 Cane Corso/American Bulldog Type
Beautiful Girl, 2(ish) Years Young
Spayed and Vaccinated 
Hi! I'm BeeGee, short for Beautiful Girl. Folks say that I am all sorts of amazing. I don't know about that. I'm just me!
BeeGee has such a sweet zest for life. It hardly matters to her what kind of hardships she suffered in the recent past.
Found in Schaghticoke on July 12, 2012, BeeGee had no identification to lead us back to her origin.
What she did have, as confirmed by Troy Veterinary Clinic, were urine and feces burns on her feet making it difficult for her to walk. Featuring a  c-section scar, it appears that BeeGee was bred at a very young age. She wandered the streets oozing milk the likes of which indicates her pups were roughly 5 weeks old at separation.
Antibiotics have since allowed BeeGee to heal and romp without issue. Her milks has dried up and, with the help of many caring donors (see below), she was spayed on October 9th, 2012.
BeeGee absolutely loves people and has great focus when watching what you'll do next. Nothing makes her happier than earning praise and rolling in the lawn, acting silly for belly rubs. She also loves tasty treats and takes them with a soft mouth, eating them slowly as she savors every bite. Both of these traits make BeeGee a perfect training candidate, as proven with her house training efforts. She also has a sweet tickle spot just under her back thigh. Touch her there and she turns into a puddle of appreciation.
When sitting in the lawn with a hold on her leash, BeeGee will pounce all around you like a cat. Her latest trick is a Triple Lawn Twirl as she rolls over and over like a child rolling down a hill, wrapping her leash around her body like a maypole sash. Just be careful. Her favorite landing spot is in your lap! Because she doesn't recognize her own body weight and strength, BeeGee's new owner will do well to be on par with BeeGee's animated antics.
Interestingly, BeeGee did get a bit overwhelmed with a friendly but tall (6'8″) man who patiently stood by as she got into a submissive posture. She kept coming back to him, wanting to get close, but she wasn't sure. It was a good experience, overall, and one she'll have to ease into over time with the help of some great volunteer work and exposure to new experiences.
With other dogs, BeeGee likes a good match in both energy and strength. She's very good with larger dogs, but doesn't like dominant females of any breed nor small, squeaky dogs.
ADOPTED!
BeeGee hit the welcome mat at her new home and then claimed every other mat and area rug in the house. She is one happy girl with brand new people and toys to enjoy for many years to come. You've come a long way, BeeGee! We love you so much, beautiful girl, and we just now you'll be happy with your new family!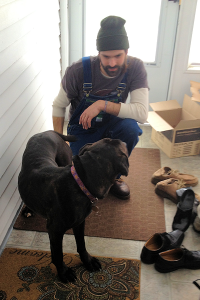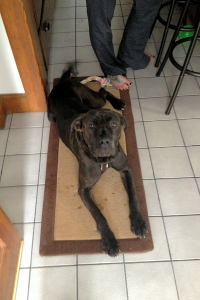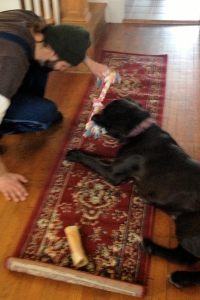 Thank You, Friends of BeeGee!
So much gratitude goes to the donors who fell in love with BeeGee online.
Karen O.
Kristine T.
Elizabeth C.
Suzanne H.
Cherrie, Andy, and Pepper E.
Megan L. who added the following note:
A donation toward spaying BeeGee as a thank you for bringing our boy Dator (formerly Miles) into our life…it's only been a few months but already we can't imagine life without him!
Together, you brought our funding up by $175, allowing us to absorb the increased spay cost due simply to BeeGee's enormous size. She is now on her way to a better life – thanks to you!