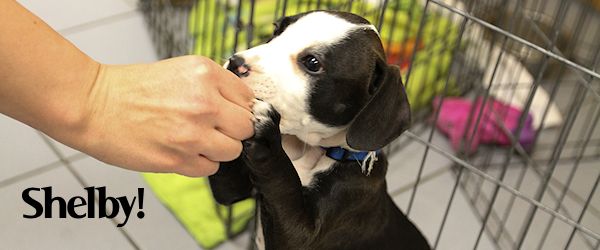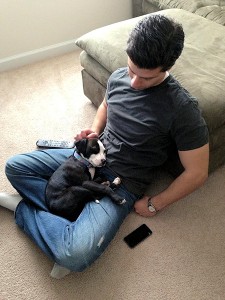 When Shelby's Southern Belle mama was first rescued in early February by Rottie Empire Rescue, a generous foster opened her New York home to this mama and her pups. 
From a litter of 7 mostly black siblings, Shelby is one saucy little pup with a glowing white face framed by dark, velvety ears. Her rescued mama is a long-eared Pittie mix but Shelby's sibs look like a whole lotta Labrador too. The only thing we know for sure is that her breeding has produced a beautiful bundle of CUTE, with paws featuring adorable white tippy toes and a little black button nose mottled with a touch of pink. 
Shelby and her sister came to Dog House Adoptions at 8 weeks of age while the others went to Out of the Pits. Raised in the 24 hour care of Cassie Hayden, this incredibly smart and eager to please pup learned top notch "sits" and pranced along to the "with me" command in just 3 short weeks. She's incredibly well socialized, too, since the staff at Troy Vet couldn't keep themselves away, and Shelby has truly learned to romp with the big dogs, fearlessly weaving between their legs in pursuit of a toy. The rescue experience, as a whole, has set her up for the best chance at success in her new home. 
And her new family couldn't help but to fall in love.
Adopted!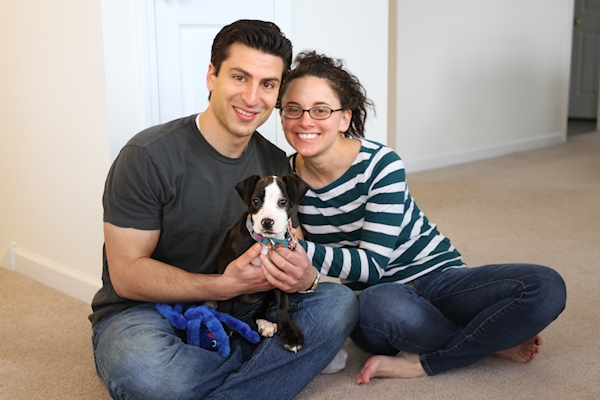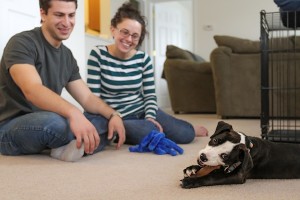 At 11 weeks of age, this velvety Labra-Bull pup put her best face forward, ready to embark on her own journey with Nicholas and Marissa. From tackling toes to roosting in the crook of her papa's knees, Shelby takes seriously the job of keeping her new family company. She entertains with every exuberant launch and sleeps especially hard when playtime is over. And she's a smart little whip, now learning what it means to walk on a leash with puppy kindergarten in her near future.
Shelby is lucky enough to keep in touch with one of her own family members. Nick and Marissa's relative adopted one of Shelby's sibling pups from Out of the Pits! She even gets to keep the name she's learned because Nick and Marissa love it. And Nick is off through July and says he has "nothing to do." Marissa assures him that he does now. This is one of the luckiest pups, ever!
Congratulations, Nicholas, Marissa and Shelby!
Shelby, Nick and I loved the video!! It brought tears to our eyes. We are so happy that Shelby is part of of our family. We are having so much fun with her!! Thank you so much for all that you are doing! Shelby says hugs & kisses to everyone!