Let's Celebrate. We've Turned TWO!
We can hardly wait for fresh food from the blooming garden, but we're ready to make wholesome, tasty birthday treats all the same! We've prepped the Honest Kitchen's human-grade pet food into a cheesy recipe chock full of savory chunked ham – using a kitchen stocked with handy items from The Pampered Chef! You'll find the free recipe, as well as an $8 coupon for The Honest Kitchen, at the end of this post!
UPDATE! WE have FIVE wonderful winners!
Thank you to all of our entrants!
Our final count for cash donations amounts to $715.
Pampered Chef Parties raised an additional $124.58 from Audra's commission and Dog House Adoptions show ($64.21), plus the show hosted by Pam Place ($60.37) in honor of our dogs.
This brings us to a grand total of $839.58! Thank you to everybody who helped keep us going for the next couple of months!
NOW OVER: Donate Directly to Win Premium Prizes!
For every $5 you donate toward the care of our dogs from April 14-30th, 2014 at midnight (EST), you'll earn a chance to win one of our fabulous prizes from The Pampered Chef, The Honest Kitchen, Bark4Green Pizza Bites, a Lupine collar and leash from Oliver's Way, or a hand-crafted apron from Definitely Dishy!
Winners will be chosen at random and announced on May 1. If a winner doesn't respond within 24 hours, another name will be drawn. Prizes will be mailed directly from the brand to the winner within the contiguous 48 United States. We're sorry, but residents outside the contiguous 48 United States may still donate toward our dogs but will not be eligible to win.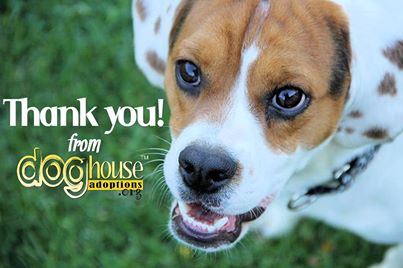 The more you donate, the more winning chances you gain!
$20 earns 25
$50 earns 70
$100 earns 150
$200 earns 300
$500 earns 1000
.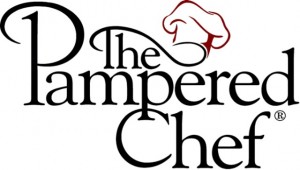 NOW OVER: Buy and/or Book a Party!
Up to 15% of total Pampered Chef April sales through this fundraiser will go toward our dogs! Place an order – or host a fundraising party (online from anywhere)! Details are in the the Pampered Chef prize tab below!
Premium Prize Details!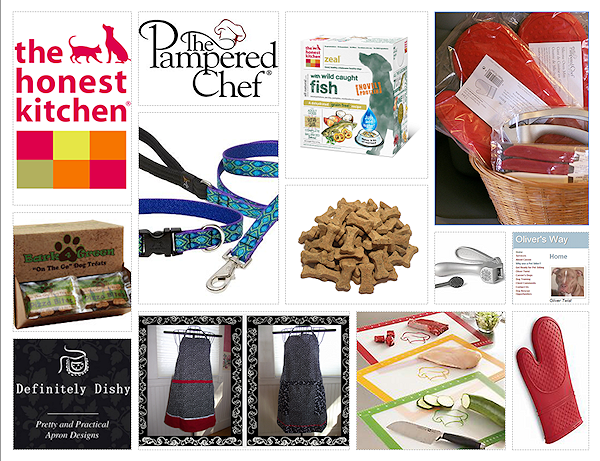 Click through the tabs to learn about each prize! [accordion] [toggle title="Pampered Chef Basket ($100 value) + Purchase & Party Opportunities!"]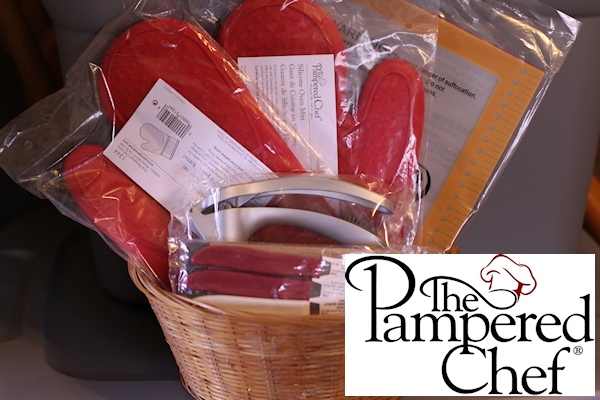 The Pampered Chef Prize Basket features everything below packed with care in a lovely wicker basket:
#1344 Two Silicone Oven Mitts  Beat the heat! Our waterproof silicone design is contoured to fit your hand, so it takes the heat and gives you a better grip. A comfy cotton/polyester interior lining adds protection. Heat-resistant to 480°F. Machine washable.
#2576 Garlic Press  Press garlic without peeling, then detach the easy-to-use cleaning tool so you never have to touch the garlic. An extra-large hopper and ergonomically contoured handle press more garlic with less effort in less time. Great for ginger, too! Dishwasher-safe.
#1013 Set of Three Flexible Cutting Mats Perfect for light prep tasks, like cutting vegetables or seasoning meats and poultry. Three colors help you quickly switch mats when working with meats and veggies to avoid cross-contamination. Silicone backing grips countertops. The material is thin and flexible so you can funnel ingredients right into recipes. Includes measure marks. Set of three in red, orange and green. 11″ x 15″. Dishwasher-safe.
#1250 Three Quikut Paring Knives  Quickly garnish and cut. 2 1/2″ stainless steel blade with a white handle. Dishwasher-safe.
Can't wait to win? Order direct!
Audra's commission plus up to 15% from Pampered Chef on the total April sales through this fundraiser will go toward our dogs! To order, visit PamperedChef.biz/abentley and click shop. Once you place your first item in your cart, you'll be prompted to enter the host name. Enter first name Kim >and last name Clune (Dog House Adoptions' Board President).
Check out this month's specials! (Opens in a new window.)

Book your own party today!
Each show booked from this event earns us $3 from The Pampered Chef, and an additional $5 for every show booked and held by Audra! If you make it a DHA Fundraiser, up to 15% of your sales go to DHA dogs!!! To book a party or fund raise for DHA, contact Audra today! 
Host an in-home cooking show, an online catalog fundraiser or a wedding registry! Book a party for May to be eligible for this special!
Earn free product based on sales

Host exclusive discounts

Party guests can receive a free gift

Book a show with Audra from this fundraiser and you'll receive a free gift and Audra will donate $5 bucks back to DHA

Booking a party and hosting a show earns you a 10% discount for a year

Anything purchased can be returned  within 30 days

Warranties mostly run from 3 years to lifetime

[/toggle] [toggle title="The Honest Kitchen Dog Food ($110 value)"]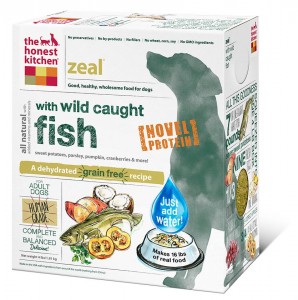 Win a 10 pound box of Zeal dog food from The Honest Kitchen! This box rehydrates to 43 lbs. of whole fishy food goodness. It's humane grade dog food that's certifiably antibiotic, hormone, and GMO free!
Zeal™ is a grain-free dog food made with wild, line-caught white fish and produce like sweet potatoes, pumpkin and parsley. Zeal is a natural human grade dog food that's created especially for adult dogs with certain dietary restrictions. One of The Honest Kitchen's most popular dog foods, Zeal is higher in protein and low in fat and carbohydrates. Because Zeal is a limited ingredient diet, it's especially suited for pups who do better without certain pet food ingredients, like poultry, flax and white potatoes. Learn more at The Honest Kitchen Website!
6 Ways to Feed
A is for All Alone Feed Honest Kitchen food by itself as a complete meal (except preference, which you mix with meat). Just add water and it's ready to go!
B is for Base–mix Use as a base for your own home-prepared ingredients. Lots of people love to make their pets' food. Honest Kitchen recipes are an excellent starting point (with balanced calcium: phosphorus ratios) that you can mix with your own meat and other goodies. (Here are some of our suggestions!)
C is for Complementary Mix with kibble as a convenient, healthy whole food topping that provides more phyto-nutrients than cooked diets. Because our foods are gently dehydrated, they retain much more of the natural nutrition that conventional pet food production methods. If you aren't ready to make the switch to 100% fresh or dehydrated food, try our recipes as toppers, so your pet can still enjoy some of the benefits of a whole food diet!
D is for Defrosting error Use as a stand-in when you forget to thaw your raw! Some of our customers feed raw food most of the time. But sometimes, schedules can be disrupted or plain old absent-mindedness can set in. Our foods are great to keep on hand as a stand-in for just such occasions!
E is for Emergencies Dehydrated foods are compact to store – you can keep our products in your emergency preparedness kit for up to 12 months and they'll be easy to take if you ever have to leave home in a hurry.
F is for Fun outdoors Take on your travels, backpacking and camping – our foods are lightweight, and quick & easy to prepare for a tasty meal on the road. Each dry-measured cup of our food makes a whole pound of fresh food when rehydrated.
[/toggle] [toggle title="Bark4Green On the Go Dog Treats® ($75 value)"]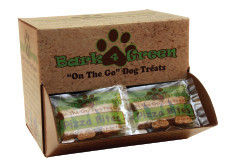 Bark4Green On The Go Dog Treats® (You'll get a 50 pack box!) are healthy, delicious, freshly baked gourmet treats for our beloved companions.
They contain NO WHEAT, NO CORN & NO SOY and are made here in the USA using all natural, human-grade ingredients and are packaged in convenient sized bags that are made from 100% annually renewable plant resources. We source our ingredients locally and bake them in small batches so they are always fresh. They smell so good that you may want to eat one yourself! 'On The Go' Dog Treats® are perfect for when you're on the go with your pup so you can reward them with ease. Our packaging guarantees freshness with each bag that you open. So, whether you're taking fido for a ride, going to the park, visiting family, or, you simply want a fresh, healthy and convenient source of snacks for your best friend, On The Go Dog Treats® are the eco-functional solution.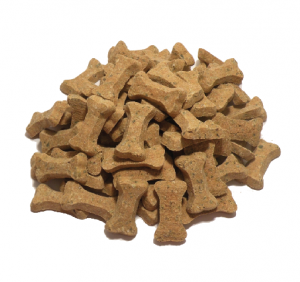 'On the Go' Dog Treats® are gourmet pizza biscuits made with love and natural ingredients here in the USA. They're packaged in 'On the Go' bags that are made from renewable plant resources. Treat your pup today! Bags contain 4 bone shaped biscuits that measure approximately 1.5″ x .075″.
*We match every treat purchased by donating the same amount to rescue shelters who use our treats to train and reward their dogs. (Dog House Adoptions is a recipient!) Learning some new tricks and basic obedience training goes a long way in helping these pups be a pleasant addition for any family. It's our way to help support pet rescues and adoption.
[/toggle] [toggle title="Lupine Collar and Leash Set ($40 value)"]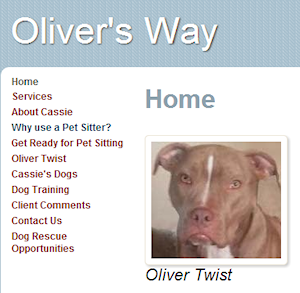 Winner picks the design and size of this Lupine collar and leash set from our own Cassie Hayden's pet sitting business, Oliver's Way.
Adjustable Dog Collars – The perfect everyday collar for every pup! From the teeniest of teacups to the largest St Bernards Lupine has you covered with every size range. The versatility of the adjustable collar is endless – with quick drying nylon webbing your dog can take a dip in the river and then take a walk downtown sporting the latest fashion trends. With welded steel D-rings, heavy duty side release clasps and climbing grade webbing your pup will be ready to take on anything that comes their way!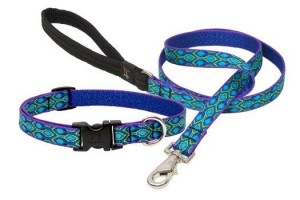 Guaranteed, Even if Chewed!
Seems crazy but Lupine's not kidding! "Whether Spot thinks his collar is more fun to chew than his bone, Fido prefers to walk himself or Fluffy seems to like the 'feather boa' look, we're gonna replace it. No receipt, no questions asked! It's that simple! And the best part? Your replacement goes back in the mail free of charge the next business day after the damaged item is received."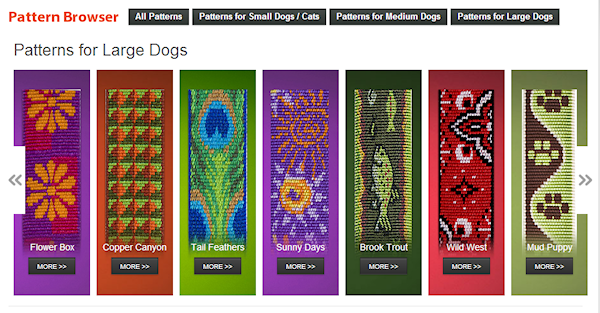 Not sure what pattern fits your pet best? Search the Lupine Dressing Room of customer-submitted photos to find which pattern is right for your pet! Lupine's system allows you to search by breed, fur color, or pattern! [/toggle]
[toggle title="Definitely Dishy Reversible Apron ($35 value)"]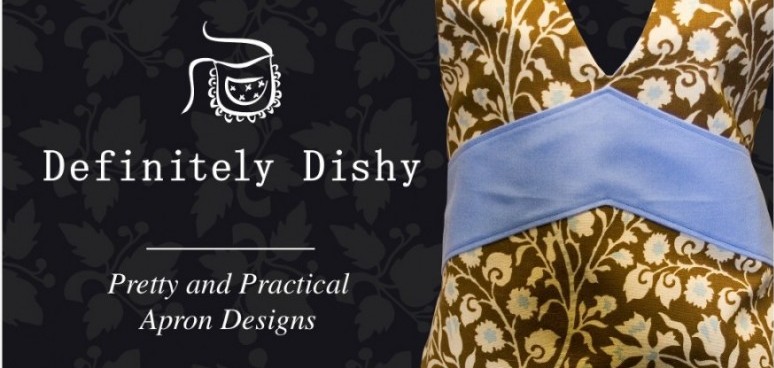 This apron is one-of-a-kind, hand-crafted in dog bone fabric and lined with a pop of red accents. Kim is wearing her own unique Definitely Dishy apron in the video! (Click for larger images of font and back.)
Definitely Dishy aprons are hand crafted, one-of-a-kind creations.  With over 20 styles for women, children and men, whether you prefer an functional  apron that heads into the kitchen with you, a vintage apron that's reminiscent of a simpler time, or an updated look for entertaining, you can find an apron that reflects your unique style. You will also find our aprons give you a flattering fit not found in standard retail fare—our variety of styles will accommodate petites to plus sizes. [/toggle] [/accordion]
---
Free Gifts for You!
It may be our birthday, but we have gifts for you too!
Print the $8 coupon off The Honest Kitchen, too! (opens in a new window) This in-store coupon is good through April 30, 2014 toward any size (2, 5 and 10 lb.) box featuring THK's former packaging. Present one coupon per box.

ENJOY! AND THANKS FOR SUPPORTING OUR RESCUE DOGS!