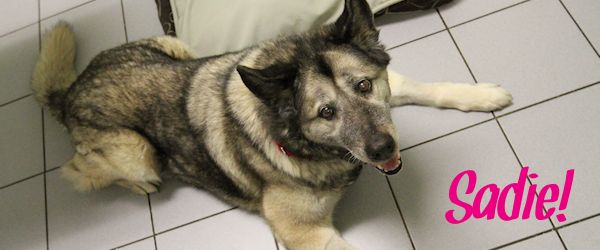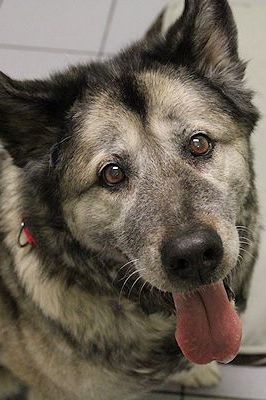 Hi ! I'm Sadie! And I'd love to take wandering strolls with you, my best friend, by my side.
This big, beautiful dog with big, beautiful, brown eyes is a big-hearted love and gentle friend to everyone she encounters (although she is dog selective). Fostered on a farm for 7 months, this happy dog has won the hearts of humans and animals alike, from horses to chickens, goats, cows, and cats.
Sadie is an 8 years-young Malamute/ Shepherd blend with wonderful house manners and no need for a crate. She may be big but she's fairly low energy. She prefers strolls to walks and speaks for treats. She's great in the car and loves a good ride. (She just needs a ramp up into a truck.) She can be playful, too, but she mostly just wants to be loved.
Sadie had a loving home but her owner passed away. His sister spent more than a year caring for Sadie in her apartment, plying her with lots of love and lots of food — until Sadie simply became too much dog for her space.
Sadie's story grabbed the heart of our favorite independent rescuer and foster, Barb. Barb brought Sadie to her farm where the two walk the property side by side tending to the animals. When Sadie needed surgery for an obstruction at first arrival, Barb raised money through donated bottles and cans, an effort aided by Peppertree Rescue, to fix her up as good as new. Sadie is now 30 pounds lighter (with just a tad more to go) and feeling in tip top shape. Barb has monitored Sadie's diet, increased her exercise, and soothed her soul. Sadie is now ready for her new forever home!
ADOPTED!
Cross posted by several rescues, Sadie found a wonderful couple to open their hearts to her through Dog House Adoptions. The woman said she kept Sadie's photo as her desktop wallpaper for a week, pining away for her, before she finally called. Neither could believe that Sadie was still available but, as Sadie's foster said, she must have been waiting for them because, in 7 months, nobody else gave Sadie a chance. The couple said they could see the beautiful gift of friendship Sadie has to offer and they drove 4 hours to come get her.
We're so excited to see Sadie enter her new and permanent home, and thrilled that our post here convinced the couple's rental association to allow Sadie to move in. Congratulations, Sadie on a well deserved family! We all wish you lots of love!