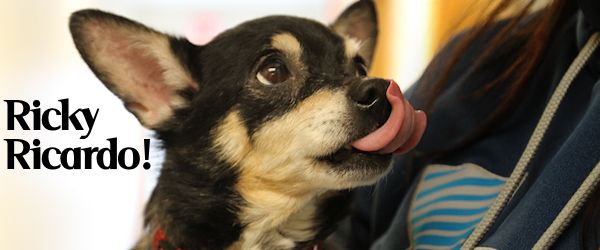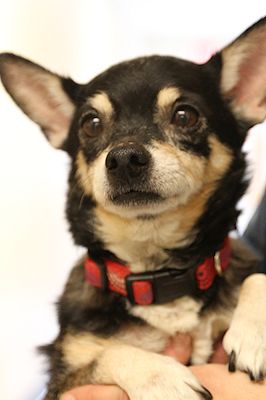 Hi! I'm Ricky Ricardo.  I've found a warm heart to love me and a lovely lap to lay in all the days of my life.
Ricky Ricardo is an 11-year-young Male Chihuahua (with 7-8 good years left!). He's vaccinated and neutered. His house manners are impeccable. He even paws at the door to go outside, unlike many small dogs. He isn't yippie. He gets along well with other dogs. He gets along with cats. He gets along with adults and children alike.
So why did an elderly person dump him at a shelter? Nobody knows. And if we don't understand what happened to him, he surely doesn't. So, over the course of two weeks in the shelter, Ricky's depression deepened until he stopped eating all together.
An angel named Barb arrived on the scene and pulled this little Chihuahua toward the safety of her farm, knowing that, after Pit Bulls, Chihuahuas are next in line for immediate Euthenasia. They just quickly wither in shelter situations. Ricky's angel pledged to foster him until somebody with a big heart came along.
Ricky has a lifetime of terrific years still in him. His blood work came back healthy and strong and, with nothing more than a little love, he began to eat again. When he sleeps so deeply that he snores in the safety of your arms, you feel like you could be his whole world and that would be enough. His hind legs have a couple of kinks, but they don't appear to be in pain. He may not be dancing at Club Tropicana anytime soon, but he's okay with that. Lap naps are more his speed and now he'll get them regularly.
Adopted!
Ricky's newest rescue angel, his new mom, saw him and immediately fell in love, just as we all did. Ricky now rides along in a baby bjorn everywhere his new mom goes. While this is, no doubt, the life Ricky has always wanted, his new mom says this is exactly the kind of dog she was looking for. The two are a delightful pairing. Congratulations, Ricky!
Ricky's foster angel, Barb, wants to thank all of our DHA fans for sharing this wonderful little dog and making his adoption possible!