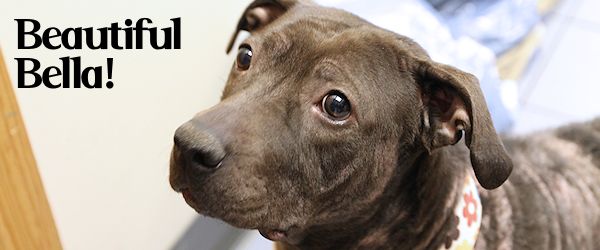 Bella the Formerly Hairless Pit-Belle
4 1/2 years young
Spayed and Vaccinated
Meet Miss Bella
Bella is a young, affectionate, well-behaved, cuddler who absolutely loves children. (In her former home, she lived with three.) Her deep brown eyes look directly into your heart as she beckons you to throw her toys or pass along a tasty treat. It's difficult not to bend to her will when she gives you "sweet face" and leans in for a gentle rub with her whole body.
Although crate trained, Bella doesn't need it. She's perfectly house trained too. Her manners make her a lovely companion in any home. (Make that any dog-free home. She prefers people to pets.) And Bella knows many commands like sit and down, she shakes with both paws, and knows the agility command for touch. She also gives gentle kisses and stands up to hug you. Soon, she'll be registered for Canine Good Citizen class.
The most miraculous thing of all? Bella was this wonderful, even when she was feeling her worst.
So, why did she have no hair?
Bella has a genetic condition called Demodex mange. The things is, Demodex is treatable, but Bella's former family didn't address it for a very long time. Instead, they abandoned her in a boarding kennel, cracked and bleeding. Whether we like to think about it or not, dogs (and humans) have, yet can resist, microscopic mites. Bella's immune system doesn't fight a certain kind as well as it could, so we've been helping her along. High quality food and a bit of medication have brought her a long, long way from the painfully inflamed mess she was at arrival.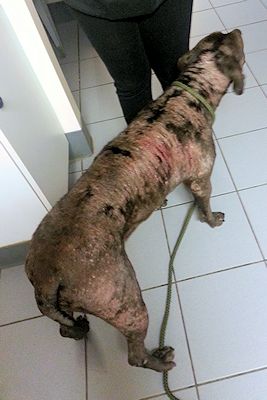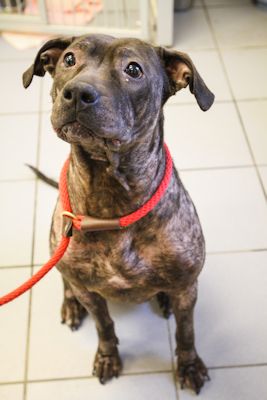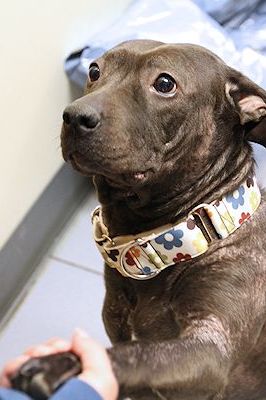 Bella's healing process: arrival, 1 month into treatment, and a month after that.
Success!!
As you can see, Bella's hair is already growing back and she's become much more of a gorgeous chocolate brown. She will always have some bald scarring due to previous lack of treatment. Earning an A+ on three weekly skin tests, Bella is now spayed thanks to a grant from Out of the Pits! While the spay set her immune system back a bit, lower estrogen levels  ease the chance of recurrence in the long run. Her inflammation is managed through diet alone. And, her cheerful, handmade hemp collar prevents irritation. (Thanks for the donation, Bull in a Collar Shop!) Bottom line: Bella is ready for her new home!
Won't you be the family to show Bella that beauty is more than skin deep?
Become Bella's Best Friend, Today!
Fill out an application at http://

www.doghouseadoptions.org/dog-adoption-application

Once your application is in, we'll get in touch. (It may take a week for us to process.)

If this is truly the pup for you, we'll do a home visit. If that goes well, you'll sign the contract, pay the non-refundable $250 adoption fee, and enjoy life with your new dog! 

Please note: We keep our adoptions to within a 90 minute radius from Albany, NY, which is most central to our foster network.
…
Bella, 1 Month into Treatment
…
bell-month-1
Hairless Pitbull
http://www.doghouseadoptions.org/wp-content/tn3/2/099.jpg
…
Bella, 2 Months into Treatment
…