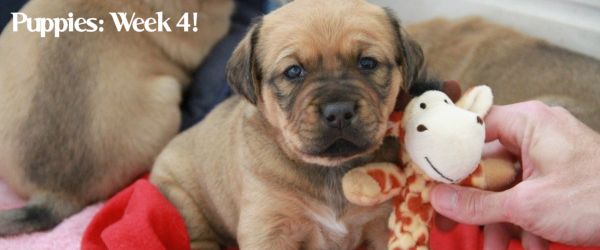 Puppies celebrate their "4 week birthday" looking at the world through big dog eyes and taking a bite out of life with their brand new pearly whites. Ever watchful, the pups are learning so much at this stage. Sights and sounds are less foreign and exceptionally interesting. Weighed in during this visit, as they have been weekly since March 19, they averaged 7 pounds at just 4 weeks old!! Come back tomorrow to see the crew's first romp in the lawn. Hysterical!
These happy, healthy pups are now fully weaned at 8 weeks of age. Why not make one your own? Hurry. There are just two left!
Adopt a Puppy Today!
Puppies: Week 4
Puppies See World through Big Dog Eyes
http://www.doghouseadoptions.org/wp-content/tn3/2/2012.04.15PitCrewPups0913.jpg
Related Articles