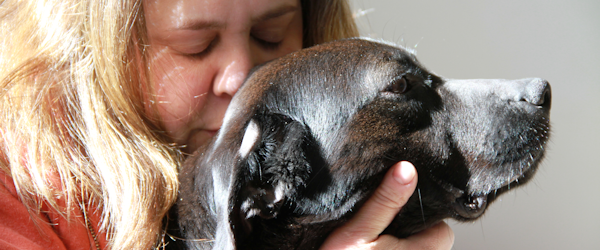 MEET LAB BREEDER, LISA DRURY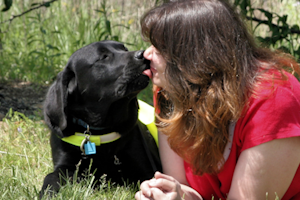 Lisa Drury, immersed in spreadsheets, focused daily on completing her graduate degree after work. A reputable lab breeder from Nassau, NY with 2 sons, 8 beloved family dogs, 4 cats, and a home construction project underway, Lisa struggled with whether or not to breed this season. As she worked out another database assignment, she decided that people on her puppy "wait list" would have to sit tight. To know the love, care and joy that Lisa pours into each of her pups, this decision did not come lightly.
ACROSS TOWN: MAMA STRAY NEEDS HELP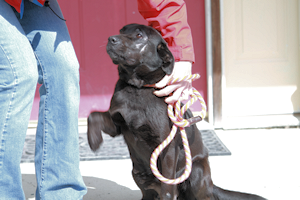 The need was urgent. Bristol, a sweet little stray named for Tennesee's Nascar Speedway, came to Dog House Adoptions with mending but recent bites around her right eye, shoulders, and hind quarters. Her belly soon grew swollen with pups. Life on the street had not been kind, and Bristol's mating had clearly been a dangerous, miserable experience.
For Bristol and her pups to thrive, she would need round-the-clock birthing care, veterinarian supervision, and to gain enough weight to support four demanding appetites. Three Dog House Adoptions members had to leave town. Help was needed, and fast.
FATE OF A PUPPY WHISPERER
Lisa discovered Dog House Adoptions on Facebook during a study break on March 10th. Immediately, she reached out:
I want to get more involved in rescue work. Let me know what I can do to help.
Acquainting herself with the story "Brake for Bristol: Show Her (+ Pups) the Love," Lisa sprung into action. On March 18th, she  prepared her whelping box, excited for Bristol's arrival, and on March 19th, after a long late-night delivery, Lisa proudly announced the delivery of our Pit Crew Puppies:
Bristol has a family … three boys and a girl. Kasey, Danica, DJ (Dale Jr.) and Tony. Mom and Puppies are resting comfortably. Thanks, Kate O'Hara for the support and assistance!!!
From Lisa's photo collection…

WIN, WIN, WIN, WIN … AND WIN
Win 1: Bristol found a person to trust, receiving the foster care and love she deserves.
Win 2: Bristol's puppies experienced a safe and healthy delivery.
Win 3: Lisa got her puppy fix after all.
Win 4: We at Dog House Adoptions learned more about Bristol's sweet disposition which will help us find her a loving home.
With four big wins in a single week, there is an added benefit, as well. Lisa's pure bred Labrador fans gained a fond appreciation for this little rescue family by following Lisa's journey online.
MEET THE FAMILY
Soon the Pit Crew Pups will have their own profile pages. For now, you can meet them here and see the beautiful love and care that Lisa provides daily.
ENORMOUS THANKS
Lisa,

You have been Bristol's angel of mercy, offering your heart, knowledge, home and time while providing for every physical, emotional, and financial need these five dogs face.  We are humbled by all that you have to offer and ever grateful that these dogs have the best possible start in life thanks to your commitment. Today, on your birthday, we celebrate you and the amazing gift you have given. Thank you so very much.

– The Entire DHA Team