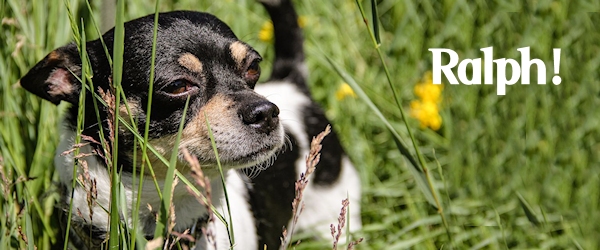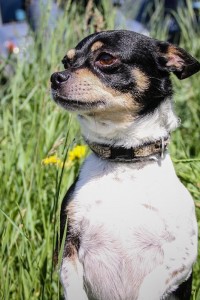 Hi! I'm Rikki (formerly known as Ralph) and my trick is to stand on my hind legs like a prairie dog!
Rikki is an affectionate 5-year-old Chihuahua found walking the streets of Schenectady and impounded for a 5 day Schenectady stray hold. When his time was up, nobody had come to retrieve him – so Dog House Adoptions did!
Rikki is a little handful, in size alone. He's easy-peasy as can be, otherwise. No bigger than a half blade of tall grass, Rikki doesn't let a blocked field of view trouble him. He just stands on his hind legs and pops his head (barely) over the top. Pick him up, trot him around. He's pretty happy just to be with you no matter what.
Rikki is good on a leash, he's good in a crate, and he travels well in the car. He just gets a little offended if you try to put him in a cat carrier… and we can't blame him for that.
Believe it or not, we know Rikki's actual birth date, January 4th, 2009. His microchip reveals that information but dead ends at the Colonie pet store Rikki was originally purchased from – which is no longer in business. His former owners never registered the chip in their name.
Adopted!
What doesn't this lucky dog do now with his amazing new family? Sandra and David Camp, and their little Chihuahua Dori, have brought Rikki into their pack, expanding his horizons in ways Rikki never imagined while sitting in Schenectady's shelter. He now hikes through the Pine Bush and kayaks in the country, nipping at tiny whitecaps along the shoreline. He sleeps in a real, human bed and takes his meals with an extra scoop of love.
"He's our baby!" Sandra says as she cuddles him sweetly.
And Sandra's friend says of the Camps' dog care, "They treat dogs better than most people get to experience!"
Congratulations on your beautiful new relationship, Camp family! Your happiness is our happiness, and Little Rikki sure is happy (if completely camera shy)!