Poocheroo's Perfect Personality
Pooch is the All-American Family Adventure Dog, perfect for parents, kids, dogs (upon proper introduction), cats, or all three. She's exactly the kind of vintage breeding that your grandfather grew up with, a Brown Paper Bag Dog chock full of sweetness inside – like an active Old Yeller without the Hollywood pedigree. And, at 4+ years of age, she'll offer many wonderful years of adoration to every family member her heart touches. Her Labrador side is wonderfully loyal, as she lovingly locks eyes on her favorite people.
No longer a puppy, she won't knock over the kids, or chew up the house, although she does get rambunctiously excited when she finds wildlife, having tossed some furniture in excitement when she caught a young skunk. She's strong on a leash and had been taking mile long hike daily with her temporary foster family. Housebroken and well mannered, Pooch never barks at house guests or needs a crate. She investigates new people with a friendly wag and sits down by their side. And the road is her best friend, as long as her family is by her side. Pooch loves, loves, loves the car.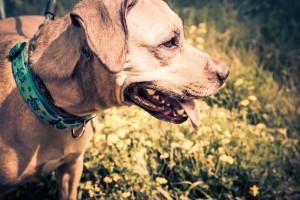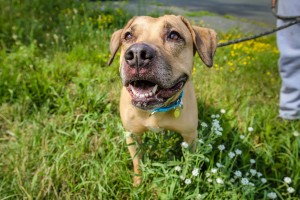 ADOPTED!
Pooch's heart was breaking in the kennel. She had given up on eating because she missed her family terribly (although she eagerly took treats when in the caring company of a volunteer, comfortably resting by their side in the kennel lawn). She'd rub her nose raw trying to see around every corner in search of what she once knew. Her former family had to downsize in the face of hardship and they knew Pooch had the best chance to find a home with her sweetness, best behavior, and younger age.
And then Pooch's new family saved her beautiful heart from drowning in her own sadness.  The whole family had a meeting to be sure everybody was on board with the decision to adopt, taking the responsibility very seriously while jovial of heart. And now Pooch is doted upon by her new children while her new dog mom and dad provide her with nothing but the best, from love to her own space, and everything in between.
Congratulations, Pooch! You deserve the best life has to offer and we know you've finally found it!
‹