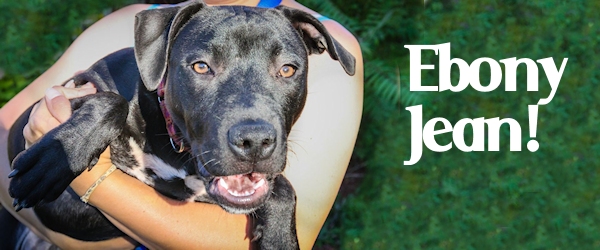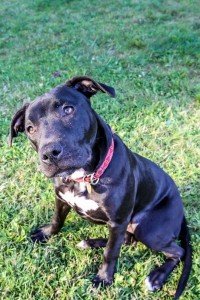 Ebony Jean landed in Schenectady's stray hold through no fault of her own. It was late July and she was just about 4 months old. When we got the call that nobody had retrieved her in time, we spared her life. And what a life worth sparing!
Ebony (or Ebbie for short) is such a sweet, smart and obedient dog. She glows in both health and happiness.
She sits oh-so-patiently for treats.
She'll stay, let you walk away, and then eagerly bound toward you when called.
She is housetrained, leash trained, crate trained, and she rides beautifully in the car, even on hours-long rides.
Ebony loves to play fetch with her tennis ball, bop joyously into her doggie pool for a quick splash, and curl into your lap for cuddle time. Her moderate energy level won't wear you out though. She just wants to pal around, anywhere you go! She has the make-up of a therapy dog, she's that attentive. And she is entertaining to boot!
Adopted!!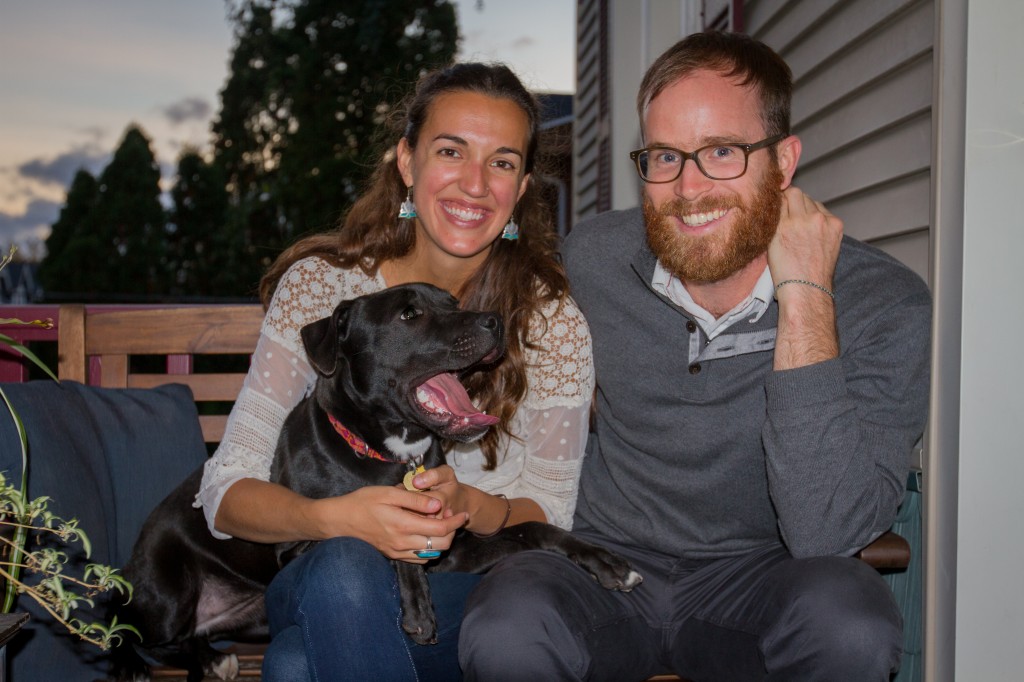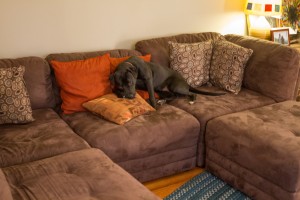 Moments after Ebony arrived at her new home, she bounced onto the couch and, ears up, pounced upon the tennis ball that casually rolled from her mouth. Ebony's new pet parents, Ariana Adams-Gregg and Ben Babbott, looked my way. I suggested that they set house rules starting now.
Nearly melting, Ben said, "We've already decided. We want her to snuggle with us on the couch."
Ariana added, later, "She'll probably be sleeping in our bed, too."
Ebony radiated joy from within. I'm almost certain that she understood beyond the words.
Ben and Ariana made things squeak and fly, sending Ebony into a tail spin as she rode the floor runners like a magic carpet… and her new pet parents just laughed and laughed. The pup slyly stalked her Groundhog and Kong bone, having the time of her life with the gifts sent by her short-term foster family, Eric, Gail and Lou. I suspect many more toys are in her future.
When Ebony curiously discovered non-toys to mouth, Ben didn't miss a beat. He replaced that item with a proper toy and praised his new girl for making the better choice. The two had clearly been preparing for their new arrival. Ariana had gone so far as to add a copy of Pitbulls for Dummy's to her night stand, learning the history, temperament, and discriminatory plight against the breed. She is one well-prepared momma.
Ebony was born with a perpetually calm, curious temperament (not to be mistaken for boring). We've often remark at how she would make a great therapy dog. When the couple learned this, they lit up. Ben's family had therapy dogs. He and Ariana are interested in taking that journey with Ebony.
Outside, small children sped by on Big Wheels while Ebony watched with enthusiastic curiosity. Parents flashed genuine smiles welcoming the newest addition to this dog friendly street. Mouth watering aromas wafted on the late afternoon breeze. Neighborhood, meet Ebony. Ebony, meet your new neighborhood. We have no doubt your people will show you the love and time of your life!
Ariana was quick to write that "We're having the most fun with our new pup! Thank you for everything!"
To that, we emphatically say CONGRATULATIONS!
ebony-jean
Best Behaved Pittie Puppy
http://www.doghouseadoptions.org/wp-content/tn3/2/09-20-201445.jpg