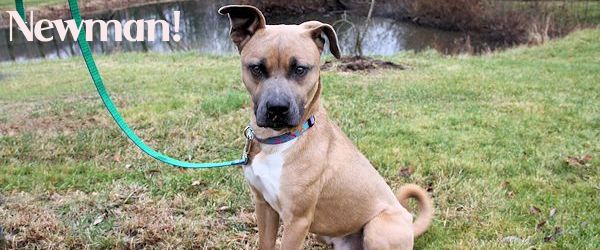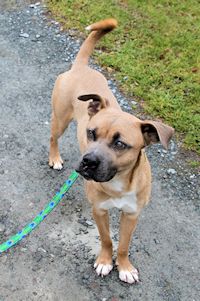 Little Boxer Pittie Blend
Young Male
Neutered, Vaccinated
Hi! I'm Newman and I can do tricks with my ears! Wanna see?
Sometimes all up, all down, or even one of each, Newman's ears do funny tricks. It's part of his quirky and endearing personality. Skinny and nervous when roaming in Brunswick, Newman is now a sated, happy and outgoing pup.
With people he's become familiar with, Newman's affection knows no bounds. He so obviously wants to make new friends too. Just the other day, he was snugging with a brand new person in record time, not a single bark or hesitation. We're working to make this a consistent reaction, but it's a good start!
Newman has a penchant for cute, female Beagles (he's met a couple) as well as some other dogs. Have a treat? He'll patiently wait for it in a perfect sit and leash walking is coming along. Newman is so smart. He's learning new things all the time. Socialization and basic commands get gold stars in the short time he's been with us.
ADOPTED!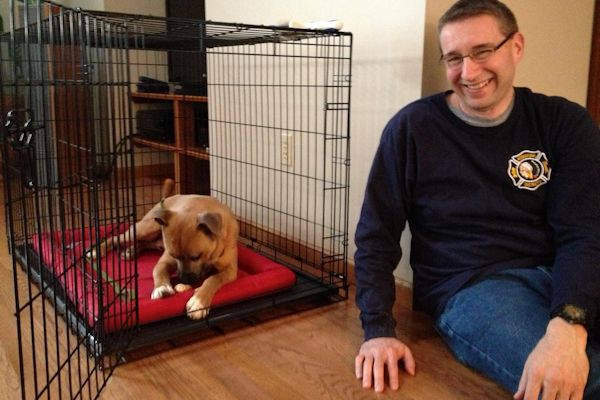 Chris, a fireman from Long Island now relocated to Niskayuna, came on a Sunday morning to meet Newman. They bonded within minutes. Chris sat on the floor and played with him for at least an hour. After such a momentous meeting, Newman's home visit was a breeze. Newman acts like he's been with Chris forever. When Chris opened the door to a brand new crate, Newman walked in with his new rawhide. He looked around, said "This is mine!" He settled right down without issue.
Newman was officially adopted on that Friday afternoon and, 48 hours later, this is what Chris had to say.
Today he took the leash off the door knob, brought it toward me then ran into the basement with it to let me know he had to go out.
And another  update from Chris:
Newman brought me his leash again. Amazing! He is a great dog! He comes to me and hides his face under my arm looking for affection
Thank you, Chris, for giving this boy a chance to shine! Look at that face! His doting gaze is an awesome reward for the care you invest and his ears alone speak volumes.