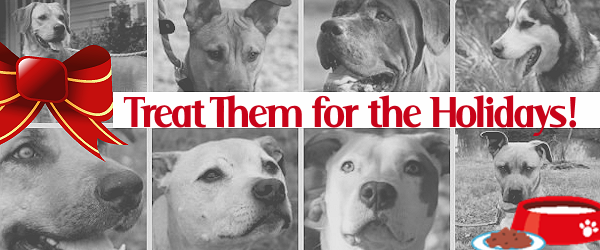 Our sweet rescue dogs wished for happy homes this holiday season but, as the hourglass runs out on 2012, we can still make their holiday bright! When asked what else their big beautiful hearts desire, they shared their three top wishes. Won't you help fulfill them?
.
Nala's wish: "All I want for Christmas are some new dog treats!"
Bite size dog treats are my favorite reward for learning to sit and stay. I've been a very good girl this year, Santa. Can I get some Milk Bone dog biscuits?  A 10 lb. box is just $12.99!
.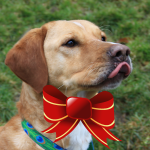 Palmer's wish: "Do you smell what I smell?"
Said the puppy boy to the hand that feeds, "Do you smell what I smell? Diamond Natural Lamb & Rice – Grain Free!" This high-quality, consistent diet is important for often malnourished incoming strays.
Available at Tractor Supply Company for $34.99 per 35 lb bag, our gang eats up to 3 bags weekly. Don't want to haul a heavy bag of dog food to your car? Gift cards to Tractor Supply Company weigh next to nothing!
.
Barron's wish: "Oh Femur Bone, Oh Femur Bone…
My teeth need cleaned and gums need toned." Raw beef femur bones are available at Hannaford and we just LOVE the way they keep our smiles in tip-top shape! Can we have some, pretty please?
.
Shhh. This one's a secret!
Chathams Small Animal Hospital offers Holiday Gift cards. Easily load one for Dog House Adoptions with the dollar amount of your choice without a single fee. We'll apply these to spays, neuters, and other medical care… thus the whispering.
Chathams Small Animal Hospital and Equine Medical Center
4042 Rt 203, North Chatham, New York 12132
518-766-4600
.
Dear Santa, Our stockings are here…

Curves at 43 Mall in West Sand Lake is accepting goods on behalf of Dog House Adoptions through December 31st. (Find directions and hours of operation.)
General donations can be made online through PayPal. Please visit our Donation Page for alternate payment methods and a full list of needs.
Every bit helps a dog!
Dog House Adoptions is an all-volunteer, not-for-profit 501(c)3 organization which relies on contributions, adoption fees, small grants, and fund raising events to provide for the dogs in our care. All contributions are deductible to the fullest extent of the law.