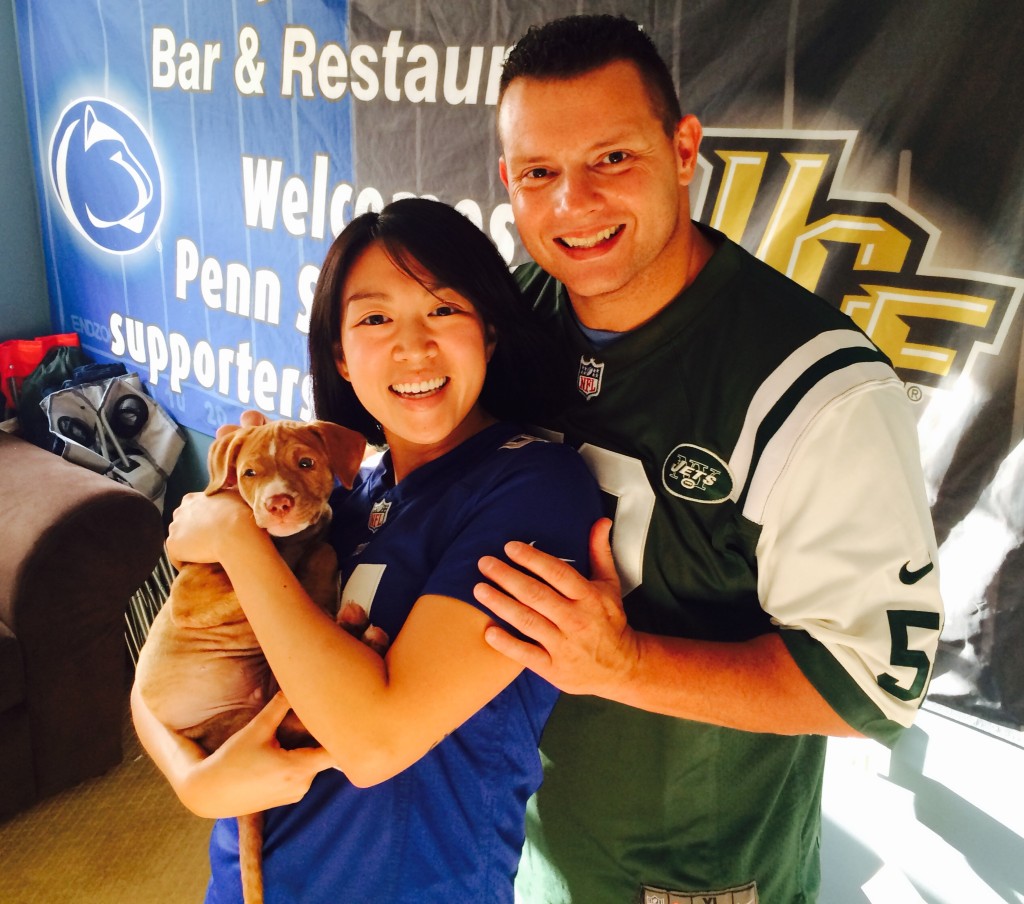 We received this note from our dog director one day:
A 911 call came in…pup under a porch. The people moved Tuesday into Wednesday. The neighbors said the female has 13+ pups and they were selling them. Not sure why this little guy got left behind but the dog warden couldn't be reached. The neighbors got my number from a friend because their dog want to eat the pup. The kids crawled under the porch to get him out. Frightened, dirty and cold but he is ok. He is probably 6 or 7 weeks old.
Of course we wanted to help!
At 8 weeks old, after just a few days of recuperation (and sleeplessness of is caretaker), Georgie (or Joe Dirt, as he was called for pooping out all the dirt he ate after being so hungry), found a caring couple to love him for life. In fact, they changed his name again, giving him his 4th name from his third family in the tiniest of lifetimes.
The next note we received about this pup came from this Golden Pittie pup's new mom, Kailee:
We are loving the newest addition to our family, MILO 🙂 he has been the absolute best and we absolutely love and adore him! He is so friendly and super loving to everyone and we are very lucky to have him! He's been to the vet and everything has been great with him so far! Thank you so much for allowing us to have him in our lives, he has become a huge part of our lives and hearts. I attached a few pictures; the first one is the day we got him and the last one is one of the latest ones from a couple weeks ago. He is getting so big 🙂 thank you so much for reaching out to us; it's nice to know that you genuinely care about the dogs and how they're doing thus far!
Congratulations, happy family! Not only are Kailee and her partner in love with Milo, so is Milo's grandma, Kailee's niece, and we're pretty sure it's a whole family affair.