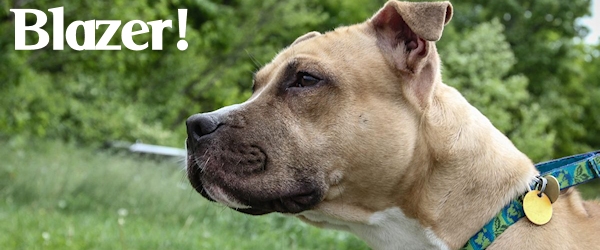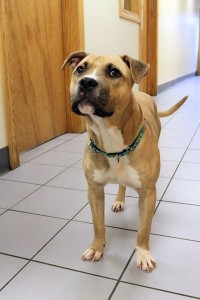 Our phone rang on April 28th, 2014. "I don't know how much time is left on this dog's stray hold but, if he's not dead yet, do you want to meet him?"
Cassie sure did and she wrote to the rest of us immediately.
Cindy brought me the dog which isn't a dog but an 8 to 9 month old puppy. Super sweet – will wiggle out of his fur. Where is he now? In the back of my truck headed for my house because I can't board a pup nor can I let it be euthanized knowing it hasn't even lived yet.
As Kim jumped on the phone to make a vet appointment, she said to Cassie, "He needs a name for the file. What can you tell me about him?"
Cassie said, "All I know is that he's in the back of my truck."
And so we named him Blazer.
Who Was This Gorgeous Fella?
At just 9 months and 47 pounds, Blazer was an exuberant little pup who loved to be near people, leaning against them with some part of his body at all times. He wiggled, wagged and kissed your face with gumption but settled down quickly and laid by your feet. He wasn't much of a bone chewer but he did like to chase toys. He just didn't know that bringing them back makes the game more fun for humans.
Blazer would wait so patiently for treats and his eagerness to please made training a breeze. At first, his emphatic need for hugs at first greeting meant his two front paws launched forward in a great big hello. This had earned him the endearing nickname "gut-puncher."
Blazer was an awesome traveler. He may have barked at first, but he then laid down and and hung out to enjoy the ride. He even grew to like the woman in the GPS system, although he did think her voice was alien at first.
Even tempered, Blazer liked other dogs and people alike, and he grew up to be such a handsome boy. The only thing that stood between him and finding a home was that he was just another brown pitbull in the eyes of so many. To us he was so much more.
Goodbye, Sweet Pal
Our dear, sweet Blazer passed away last night. Three vets couldn't find his issue and he was always presenting just on the side of healthy but for a reduced appetite. In a dog who always picked at his food since he came to us, even this only seemed odd after a sudden and significant loss of body mass this week. But still, his tail was always wagging.
We were told that Blazer had cancer at the base of his stomach at just a year old.
Cassie is devastated. As fosters, She and Zack did everything possible to make our boy comfortable, including good home cooking and Five Guys burger runs to entice Blazer beyond the onset of nausea. Whatever Blazer was feeling physically, he knew that he was ever so loved. And his tail kept wagging until the very end.
Thank you, Cassie, for giving this boy a chance and all the love in the world. And thank you to everyone who held this pup at adoption clinics, hoping for his forever home. That it ended up being Cassie's home is a blessing unto itself.
As volunteer Brittany DeJohn said best, "We will miss you so much buddy. You were one of my favorites!"

Watch Blazer grow into his short but happy life.
blazer
Playful Pittie Pup
http://www.doghouseadoptions.org/wp-content/tn3/2/477.jpg