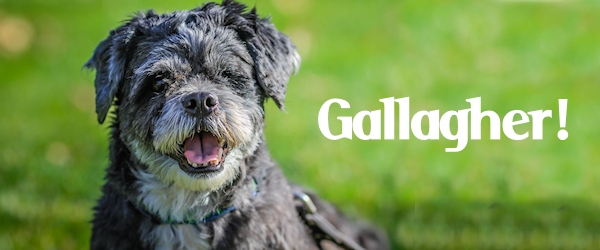 Pop-Eye the Shih Tzu Man!
Male, 3 years young 
House trained, neutered, and vaccinated
How He Bounced Into Our World
Gallagher is the happiest, go-luckiest little guy we've ever met. When he was spared from abandonment at a stray hold in Schenectady, his poor little eye was painfully bulging. It had been ignored by his prior owner for so long that it had to be removed. (She didn't want him back, by the way. But we can't for the life of us, figure out why.) Did any of this slow Gallagher down? No way! He was the sweetest little fella, even when suffering inescapable pain. Now that his pain is erased, it's not like he could get any happier, but he sure got a whole lot more comfortable.
The Perfect Friend to Everybody
Gallagher is everybody's best friend. Big dogs, small dogs, medium sized dogs, he loves them all – and cats, too. He does a lot of "talking" when he first meets other dogs and cats (he's big on announcing introductions), but settles down quickly. At the moment, he likes to play the game of "winning" with his much bigger foster sister Daisy. Short humans of the childhood variety and adults are all favorite friends, too. There isn't anybody that Gallagher doesn't like and there isn't anybody who doesn't like Gallagher.
Likes and Dislikes
Take him out on a leash, for a ride in the car, or park him in your lap. There's no place this little pal can't go and feel content. He's also good when left alone and needs no crating. Give him a good meal and a bone and he's your friend for life. Gallagher's energy level couldn't be more perfect either. He's young enough for a rousing bout of play and happily gives lots of quiet snuggle time, too.
But everybody has some dislikes and Gallagher is no different. He's not a big fan of getting his ears cleaned and… Well. Wait. That's about it.
Adopted!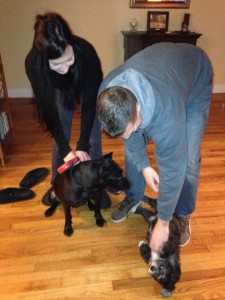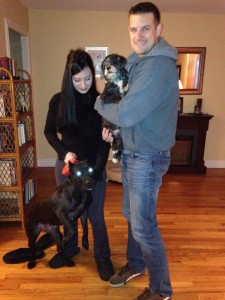 gallagher
The Pop-Eyed Shih Tzu Man
http://www.doghouseadoptions.org/wp-content/tn3/2/11-11-201424.jpg