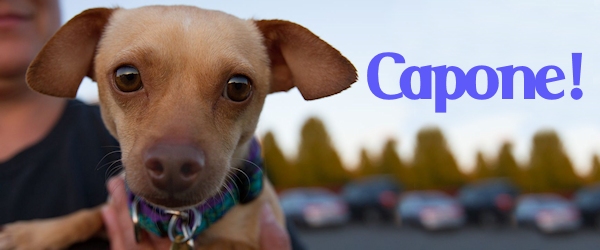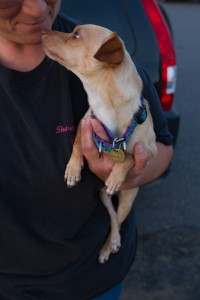 Chi Chi Carumba!!
Neutered and Vaccinated
Middle-Aged Pup
Capone is a teeny, tiny, happy people pup, and not interested in taking them out as his name might suggest. The only thing he might do "to" you is smother you with affection, but it's hardly deadly. Because this little teacup of a dog is so tiny, we suggest a household with older children who won't unintentionally toddle upon him. For Capone, that could be his undoing.
Capone loves to survey his neighborhood, whether leash-walking the beat or doing a drive-by. Car rides are a lot of fun. He might rough things up a bit as he chases his foster mom's cats, but he doesn't try to hurt them. He's not into their business as seriously as all that. And he likes to hang with the big dogs, or small dogs, although it takes a little bit to earn his trust. He's not exactly particular in the who as much as what the have to offer him.
Bones are a favorite pastime in his crate – and the bigger the better. He also likes toys and to play fetch.
Capone is working on house training with plans for success, and he's good at rolling with the punches, adapting to his foster mom's schedule with ease. He's also not too particular about how or why he's touched. "Just pet me!" is his only demand. And he's so eager to please so he'll be a breeze to train!
Just hold this pup, ply with kisses often, and you will have a friend for a long and happy life. Once you get to know his super softest underbelly, you'll be committed. It's a sure thing.
Adopted!
Hurray! We received this note from Capone's foster mom, Diane Wood.
Capone went to his furever home tonight! The family is going to send pictures … I can tell you though,Capone is in a great home with 2 great kids another dog & a cat. When I left he was playing with his toys with the kids & their parents.
We couldn't be happier for all of you and cant wait to see and share those pictures!