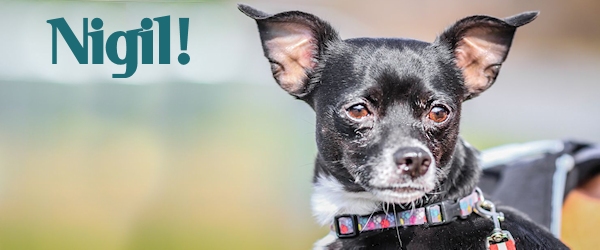 Nigil's life on death row was spared by Barb, one of our independent connections. When this little Chi-chi first came to her at just under two years old, he was shy and had no house training at all. He's come such a long, long way in a very short amount of time.
At just 10 pounds, Nigil is all brain and heart. A smart little guy, he's learning to recall, trust, leash walking, and working to keep his home clean. His heart is happiest when he's sitting in your lap or dozing off in the crook of your arm.  Nigil's heart is't particular, by the way. He'll befriend dogs, cats and children with ease. The perfect pet, he's just eager to learn and do what pleases you.
Won't you please give him a home where you can both be happy?
Nigel Found His Best Friends!
Barb says Nigil found a wonderful forever home just before Christmas! What an amazing gift for this little dog and for his new family. Congratulations, Nigil family, and to you, Barb, on one more soul of many saved by your helping hands.