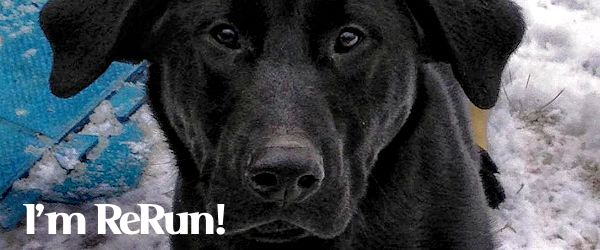 Labrador Retrieve-Your-Heart Puppy 6 Months Young Neutered and Vaccinated LOVE IS IN THE AIR! 
I'm ReRun, a Black Lab puppy found wandering the streets of Troy. And I get a rerun – or 2nd chance – at love this Valentine's Day!
All Labrador puppy, Rerun likes to hold objects in his mouth as he walks along on leash, or when playing fetch. And now he can hold his owners' hearts in his as they embark on their new journey together! Rerun is going home leash trained, thanks to the hard work (and hard play) of the Creekside Kennel staff and Dog House Adoptions volunteers. He also does well in a car and likes to fetch and play with toys. ADOPTED! This affectionate, intelligent, even-tempered and goofy guy is going to be so very loved his whole life long by the Whaley family.  Desiree, his new pet mom says:
ReRun is the BEST Valentine's Day present ever!
Congratulations, ReRun, and to you too, Whaley Family!!