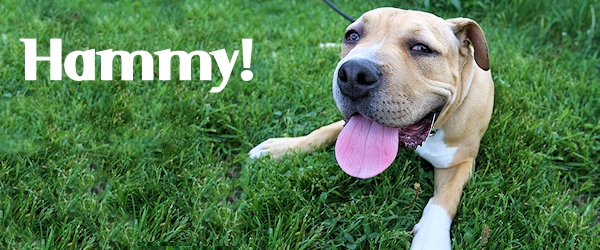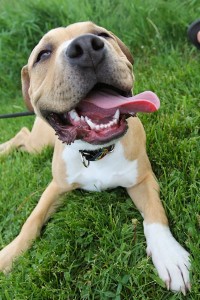 Tiny Mastiff Bobble-head Blend
Male Puppy, 6 months
Neutered, Vaccinated
Hi! They call me Hammy the Ham and I'll have great fun making you laugh!
Hammy is an affectionate little bugger. He'll climb into your lap, loll next to you in the grass, and lick your fingers with sweet kisses. He's playful and smiley, but not mouthy. (Teeth aren't part of the equation when buffered by happily, droopy lips.) Mostly, he makes you laugh because he's so very unique.
Hammy's cute and happy head is twice the size of his tiny body, which means it's all the better to smile at you with. Yes, Hammy gives seriously good face (with a bit of drool – but only after he drinks.) He's such a goofus, too, sliding down the grassy hill on his side, face-first, wiggling the whole way. As he sniffs everything in sight, he makes the most hilarious sounds, like a little piggy rooting around in the feed pile. We just laugh and laugh when he comes out to play.
Hammy is good in a crate, good in the car and all-around a good boy. He has a moderate energy level, quickly quieting down after a burst of excitement. He is also an all-around puppy who will need leash work and training of basic commands. We've begun to work with him already and he's sweetly eager to please.
When Cassie discovered Hammy in Schenectady's stray hold, she said, "He was pressing himself against the kennel so I could pet him" and she had to bring him home. He's now safe with us and waiting to meet you! Until then, we're cuddling him lots.
Adopted!
Hammy went into foster care and is never, ever coming out. His foster placement with Kim is now permanent!!
According to Kim, Hammy just plugged right into her family … and then fell right into her pool. So Hammy got a life jacket, learned to swim with and then without it. Now he spends the summer wading, swimming and splashing about. He's also a fan of cruising Lake George by bot, making dog friends on the street when docked.
"He's a typical toddler boy," Kim says, mischievously nibbling at her toes and plunking into her for puppy play. I'm not sure where summer school fits into all this fun, but Hammy's mischievous side got him enrolled. We can't wait to hear how he does and we especially can't wait to see pictures of his latest family adventures!!